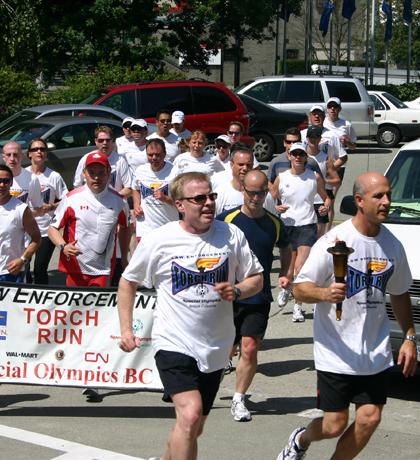 As we celebrate the 50th anniversary of Special Olympics globally, we are taking a look back at the #50moments that have defined the Special Olympics movement here in B.C. and throughout the world.
Law Enforcement Torch Run members laced up in B.C. for the first time during the LETR Final Leg that kicked off the 1990 Special Olympics Canada Summer Games in Vancouver.
The 12-day run started on June 30 in Calgary, because the city had hosted the previous National Games. From there, runners proudly carried the Flame of Hope for more than 1,300 kilometres. The event came to an inspiring finish on July 11, with law enforcement members running the torch into BC Place Stadium during the Opening Ceremony of the 1990 Special Olympics Canada Summer Games. More than 1,500 law enforcement members participated in the run, which raised $145,000 for the Games.
Not only did law enforcement members bring the Flame of Hope to B.C., they also brought the LETR movement to stay. The global Law Enforcement Torch Run movement was founded in 1980 by now-retired Wichita Police Chief Richard LaMunyon to inspire support, awareness, and inclusion for Special Olympics athletes. To date, the LETR has raised more than $700 million in support of Special Olympics worldwide.
After the 1990 LETR Final Leg, many B.C. participants were inspired to continue supporting Special Olympics athletes, and the event created lasting relationships between law enforcement agencies and SOBC. This led to the establishment of the Law Enforcement Torch Run for Special Olympics BC.
Since 1990, the BC LETR has raised more than $4 million for Special Olympics BC. Law enforcement members across the province raise funds and awareness for SOBC through events and initiatives that include run/walks, Polar Plunges, golf tournaments, roof sits, and overtime drives. Many law enforcement agencies support the BC LETR, including municipal police departments, RCMP detachments, and other law and peace enforcement agencies.
June will be full of inspiring and fun LETR events all over the province! Learn more at www.specialolympics.bc.ca/letr