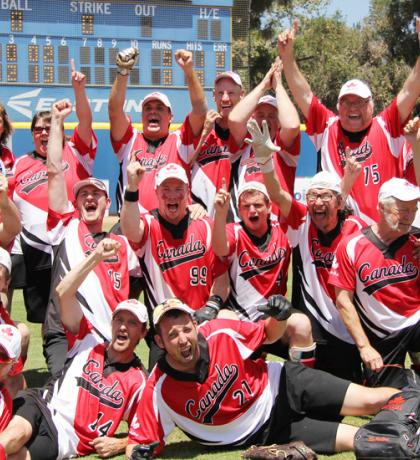 As we celebrate the 50th anniversary of Special Olympics this year, we are taking a look back at the #50moments that have defined the Special Olympics movement here in B.C. and throughout the world.
The Kelowna Grizzlies are the only B.C. team ever to compete and win medals in three Special Olympics World Games. They played together for more than 25 years, and while some members have stepped away, the core group remained the same during their three medal run.
In 1999, they became the first Special Olympics BC softball team to make it to World Games. They went on to win a gold medal in a thrilling 14-13 come-from-behind win over the U.S. team from Iowa!
The Grizzlies team continued to work hard, and in 2010, they won the right to represent Canada at the 2011 Special Olympics World Summer Games in Greece. They tied for gold but were awarded silver based on runs for and against.
The Kelowna Grizzlies set a B.C. record by representing Canada for the third time at a World Games when they competed in the 2015 Special Olympics World Summer Games in Los Angeles, capturing the bronze medal in the process.
Their success on the field resulted in another honour. In 2015 they were the first team to be selected into the SOBC Hall of Fame for their accomplishments.
At the time of the Hall of Fame announcement, SOBC – Kelowna Grizzlies' David Scott, said playing softball has helped him "grow a lot" during his 20-plus years as a Special Olympics athlete.
"Special Olympics has given me the chance to see a lot of different places and meet some interesting people," he said. "It has also given me the chance to be more self-confident and willing to do and try different things, not only in sports."