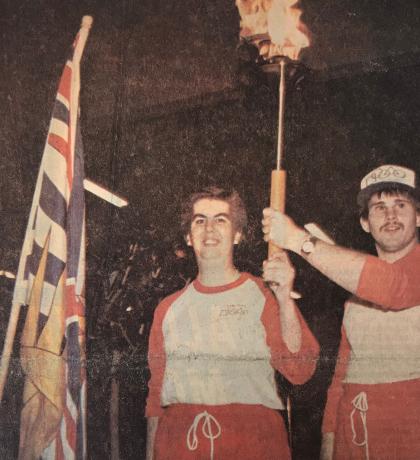 Thirty-five years ago this summer, the first-ever Special Olympics BC Games were held at the University of British Columbia, showcasing the amazing abilities of more than 300 athletes with intellectual disabilities.
"The level of competition was astounding and the public participation heartwarming," reported the Special Olympics BC Bulletin newsletter of the day.
These first Provincial Games were made possible thanks to the dedication of more than 80 participating coaches, the hardworking Games Organizing Committee, and many event volunteers. The athletes excelled competing in four sports: athletics, bowling, floor hockey, and swimming.
Special Olympics BC Games are important for athletes and for fostering inclusion and respect throughout our province. Athletes have opportunities to challenge themselves through competition and training, to meet many new people, and to take centre stage and feel celebrated for their abilities. And when they compete, they open the hearts and minds of everyone who sees them in action, increasing awareness of their abilities and creating more inclusive communities.
After the inspiring beginning at UBC, the next Special Olympics BC Games were hosted in Kamloops two years later. The 1986 Opening Ceremony torchbearers Marilee Manning and Wayne Kulchyski are still active Special Olympics athletes today!
From those early Special Olympics BC Games to the Provincial Games of today, we can see the incredible growth of our movement in our corner of the world. The most recent Special Olympics BC Summer Games in Kamloops featured 1,500 amazing athletes going for personal bests in 11 sports, and this year's Special Olympics BC Winter Games in Greater Vernon saw nearly 600 athletes shine in eight sports.
Today more than 5,200 Special Olympics BC athletes are active year-round in empowering sport programs in 55 communities throughout the province, thanks to the dedication of more than 4,300 volunteers, with the vital backing of countless family members, sponsors, and fans in the community. Many athletes today love training to compete in Regional Qualifiers, seeking to earn spots in Provincial Games.
UBC's Vancouver campus went on to host more Special Olympics events, including the Special Olympics Canada Games in both 1990 and 2014. The 2014 National Games involved more than 1,300 Special Olympics athletes from coast to coast competing in 11 sports. My, how we have grown, and yet some things don't change – UBC remains an amazing event host and a champion of inclusion and respect for individuals with intellectual disabilities.