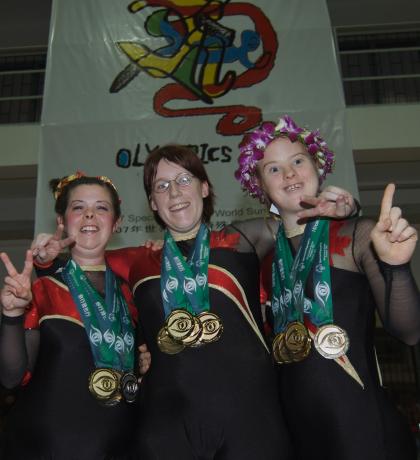 As we celebrate the 50th anniversary of Special Olympics, we are taking a look back at the #50moments that have defined the Special Olympics movement here in B.C. and throughout the world.
In 2007, the global Special Olympics community headed to Shanghai, China, for a stellar Special Olympics World Summer Games experience. Not only did China create outstanding support for the 7,500 competitors from all over the planet, but the country chose to use the opportunity to champion awareness and respect for its citizens with intellectual disabilities.
Less than 20 years earlier, China's leaders refused to even acknowledge any of their citizens have intellectual disabilities. But the 2007 Special Olympics World Summer Games were a huge celebration of athletes with intellectual disabilities and their inspiring abilities, and China's leadership showed significant support, including the highly visible presence of President Hu Jintao at the star-studded Opening Ceremony.
B.C.'s members of Special Olympics Team Canada 2007 reported that the spirit of the World Games was felt everywhere in Shanghai, the largest city in the world, with citizens all over sporting Special Olympics World Games T-shirts and widespread signage drawing attention to Special Olympics.
The 2007 World Games were a great catalyst for change in attitudes about individuals with intellectual disabilities in the world's largest country.
Today, Special Olympics China has more than 1 million athletes participating in 34 sports, with the support of more than 75,000 coaches, and they offer Special Olympics opportunities such as Athlete Leadership programs, youth programs, Healthy Athletes, and youth advocacy.
Special Olympics BC was (and is) very proud of the 20 athletes, six coaches, and three mission staff from B.C. who helped Team Canada 2007 shine on this significant stage!