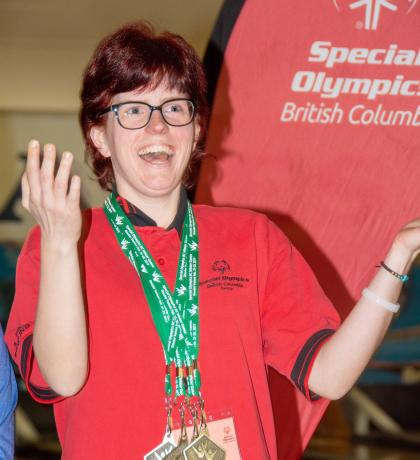 From February 21 to 23, more than 600 athletes with intellectual disabilities gave their all in the 2019 Special Olympics BC Winter Games, and inspired everyone watching with their determination, sportsmanship, and joy. These were SOBC's largest Provincial Winter Games yet, and a thrilling display of the abilities and drive of Special Olympics athletes.
After earning their spots in the 2019 SOBC Games through Regional Qualifiers in 2018, the competitors from all over B.C. trained hard with the year-round Special Olympics programs in their hometowns to be able to pursue personal bests in Greater Vernon. They delivered outstanding performances and were a shining example of the way Special Olympics athletes turn the spotlight on abilities and change the way the world sees people with intellectual disabilities. Roughly 1,220 medals were awarded to proud athletes whose smiles lit up the podiums.
Supported by more than 200 dedicated volunteer coaches and mission staff, the athletes competed in the eight SOBC winter sports, and the Greater Vernon venues – SilverStar Mountain Resort, Sovereign Lake Nordic Club, the Greater Vernon Recreation Complex, and Lincoln Lanes – provided outstanding fields of play and warm welcomes.  
The Greater Vernon community truly rose to the occasion to host and celebrate the athletes. More than 800 volunteer shifts were claimed by kind and enthusiastic people who provided outstanding support and impressive positive energy throughout the long days. Special thanks are due to the dedicated volunteer Games Organizing Committee members, who worked tirelessly and passionately for months to create a top-quality experience for all the participants.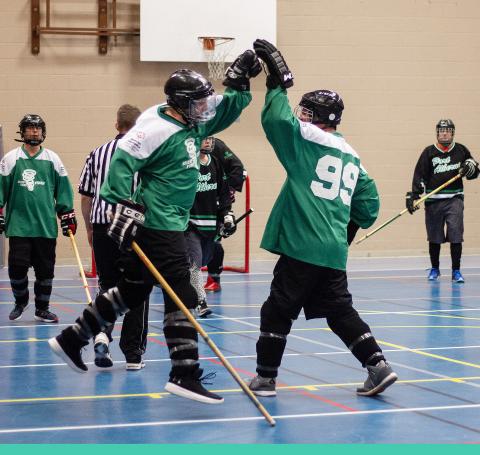 Their dedication was matched by the generosity and genuine support from the sponsors who contributed significantly to make the 2019 SOBC Games possible.
"In the Opening Ceremony, I told the athletes to give it their all and inspire us, and they absolutely did. I declare Greater Vernon inspired," 2019 SOBC Games Chair Glenn Benischek said. "The response from this community was so incredible. So many volunteers and sponsors chose to get involved, and they brought such great energy and interest. Everyone I talked to was so positive." 
The athletes inspired everyone watching and everyone involved in supporting them. As dedicated volunteer Region 8 Chef de Mission Tracy Heartt said so beautifully: "Commitment. Perseverance. Determination. Guts. Joy. These athletes are my 'why.' They have earned my time, my tears, and my cheers. They deserve to be in a place where for once, THEY are the MAJORITY and FOCUS. They are CHAMPIONS. Each and every one of them."
Key links
Voices from Greater Vernon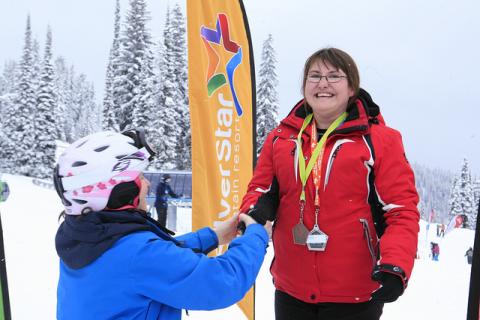 At SilverStar Mountain Resort, SOBC – Vernon alpine skier Crystal Rohrer was excited to be racing on her home mountain. "Racing was awesome. We had lots of powder (the first day) so it was really fun. It's awesome to be on the Special Olympics team for Vernon because I get to meet a whole bunch of new friends."
At 5-pin bowling, the atmosphere was electric thanks to the energetic teams and many spectators. "I'm having so much fun...I'm dancing!!" SOBC – Delta's Jamie Ross said.
SOBC – Golden cross country skier Sebastian Gylander was proud of how he performed at the 2019 SOBC Winter Games. "I feel like I've done very well," he said. "It makes me happy. I like it when a bunch of people are cheering for me when I come in." These were his first Provincial Games, and along with racing, he said he really enjoyed the Opening Ceremony. "Lots of people showed up. It was a big event, there were a bunch of athletes there – it was really fun!"
SOBC – Quesnel curler Brock Terlesky said his teammates have played very well at the 2019 SOBC Games. "They have gone beyond expectations and I'm just so proud of them!" he said. "They have been level-headed; they have been very focused." Terlesky said his team worked very hard to get this far.
"We have just been very warm with each other, we have always supported each other, we have always cheered others on when times get rough – so I'm just proud of the journey we have been through to get here."
SOBC – Port Alberni figure skater Kari Trott says the best parts about competing at Provincial Games are "meeting new people and always trying your best!" Trott had been nervous about an element in her routine, but she had been practising it very hard, and she nailed it in competition in Greater Vernon. "It felt awesome!" she said. "In my head I was just like 'Oh my gosh – I did it!'"
SOBC – Victoria figure skater Pauline Shaw competed in the inaugural SOBC Winter Games, held in Prince George in 1991, and reflected on the differences between those Games and the competitions in Greater Vernon. "That was the first time that I was ever at a figure skating competition with Special Olympics, and at that time we only had (skaters in) two levels, Level 1 and Level 2, and that was it. Now it's up to Level 6 and Open," she said. Looking at the 2019 SOBC Games, she said, "Oh, it's amazing. There's so many (athletes), and there's so many different (figure skating) levels and the athletes are all of different abilities, so no one gets left behind. I think that's really cool."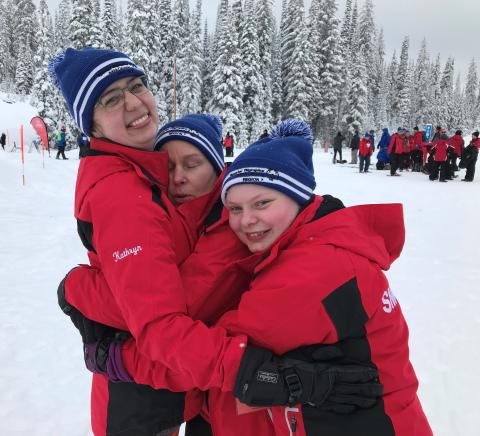 SOBC – Smithers snowshoer Kaylee Richter loved making new friends from around the province. "I've met a lot of people!" she said. "I like it and it's fun! I like to introduce myself to other people, and then I know more about them. Then they will introduce themselves to me so I can know them better." 
SOBC – Quesnel snowshoer Cory Melnychuk praised the Greater Vernon Provincial Games experience. "This is a wonderful area. The people are just phenomenal, and we are having fun."
Floor hockey player Tanya Norman of SOBC – Powell River, a gold medallist with the Comox Valley Vipers, gave high marks to the SOBC Games experience in Greater Vernon. "I find that it's probably my best experience ever, over all the Provincial Games I've been to before," she said. "It's fun. I love playing floor hockey."
SOBC – Kamloops floor hockey player Michael Harris said his favourite things about the 2019 SOBC Winter Games were meeting new people and spending time with his awesome teammates. "I enjoy it, it's a blast!" he said.
SOBC – Langley speed skater Ryerson Shelvey competed in his first Provincial Games in Greater Vernon. "It's good – I love it! I love to connect with people. My goal is to go to Nationals or Worlds in speed skating," he said. Shelvey was in Vernon with his dad, SOBC – Langley and Region 3 coach Bruce Shelvey. "He's my dad, he loves me so much," Ryerson said. "I am so proud of my dad for coaching me in sports."
Check out lots more on social media under the hashtags #SOBCGames #GreaterVernon2019!
What's next
For many athletes, Provincial Games offer their first opportunity to experience the joy of travelling and being part of a team. Others aim not only to deliver personal bests and challenge themselves in provincial competition, but also to advance to national and international levels of competition. The top performers from the SOBC Games in Greater Vernon will qualify for spots on Team BC for the 2020 Special Olympics Canada Winter Games in Thunder Bay, Ontario, which will be the national qualifier for the 2021 Special Olympics World Winter Games in Sweden. Team BC 2020 members will be announced in the spring. The Special Olympics competitive cycle is empowering, exciting, and important both to athletes and to the communities who see them in action and develop enhanced respect and inclusion. 
"My first Provincial Games in 2015 led me all the way to World Games in Austria and to Parliament Hill with Team Canada meeting Justin Trudeau. (The journey) was amazing. I feel proud of myself for making it that far and for doing my best and working so hard," SOBC – Kelowna snowshoer Tony Wilkinson said during a break from competition in Greater Vernon.
While the 2019 SOBC Games are now over, the year-round Special Olympics sport, youth, and health programs in Vernon and 55 communities around the province continue to change lives through the power and joy of sport. There are many opportunities to get involved with the inspiring and fun Special Olympics family; new members are always welcome to participate, volunteer, and donate.