Olympians Scott Moir, Tessa Virtue and Patrick Chan #ChooseToInclude Special Olympics athletes in Rock the Rink tour
Olympic gold medalists – and longtime Special Olympics champions - Scott Moir, Tessa Virtue and Patrick Chan are choosing to include individuals with an intellectual disability in their upcoming cross-country tour, Rock the Rink.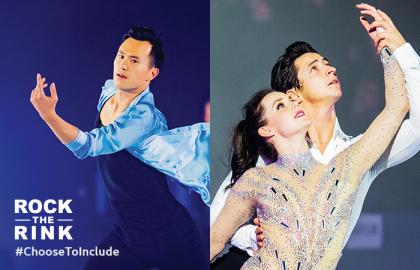 The all-star cast of Moir, Virtue, Chan, two-time Olympic silver medalist Elvis Stojko, Canadian figure skater Kaetlyn Osmond, American figure skater Jeremy Abbott and Italian figure skater Carolina Kostner, will be joined by a local Special Olympics Canada athlete,who will perform a solo at each Canadian stop in the 31-city tour this fall. 
"It's an honour to be able to share the stage with all of the phenomenal Special Olympics athletes who will be performing in Rock the Rink this year," three-time Olympian Scott Moir said about the partnership announced Tuesday.
Moir, Virtue and Chan are members of Special Olympics Canada's Champions Network – a dedicated group of Canadian Olympians, professional athletes and celebrities who support and promote the movement and the transformative power of sport it brings to Canadian children, youth and adults with an intellectual disability.
The trio were inspired to include Special Olympics athletes in Rock the Rink after attending the 2018 Special Olympics Canada National Awards Night – an annual event honouring athletes, coaches, volunteers and supporters from across the country with awards like Athlete of the Year and Coach of the Year.
"We see FIRST-HAND the power of inclusion, AND SPECIAL OLYMPICS CERTAINLY builds confidence - BOTH ON AND OFF THE ICE - for individuals with intellectual disabilities." -- Scott moir
"Special Olympics is an organization that is incredibly close to our hearts," said Olympic champion Tessa Virtue. "We have no doubt that the Special Olympics athletes' triumphs and exuberant performances during Rock the Rink will inspire crowds!"
According to Special Olympics Canada CEO Sharon Bollenbach, this partnership demonstrates that "Rock the Rink is a true champion of inclusion." 
"We couldn't be more excited for this collaboration, which focuses on sport, friendship and leadership," she added.
Join the Rock the Rink cast as a champion of inclusion by simply visiting your local Tim Hortons on Global Day of Inclusion Saturday, July 20 for a Special Olympics Donut.
All proceeds from every donut sold will support Special Olympics athletes across Canada. Post a photo with your exclusive donut alongside #ChooseToInclude to spread the word.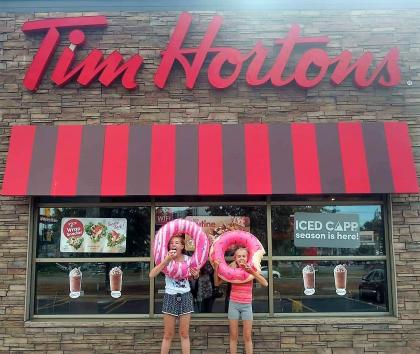 Join the Rock the Rink cast and participate in Global Day of Inclusion, it's as easy as ....DONUTS! 
Step #1: Visit your nearest Tim Hortons on Saturday, July 20.
Step #2: Buy an exclusive Special Olympics Donut created by Special Olympics Ontario athlete Tori Ranson.
Step #3: Post to social media with #ChooseToInclude to show us that you believe we are better together!
** Make sure to tag @SpecialOCanada and @TimHortons! We can't wait to see your amazing photos!
Step #4: SPREAD THE WORD! Tell at least FIVE people to visit their local Tim Hortons on Saturday July 20 and #ChooseToInclude!
LEARN MORE 
To learn more about Global Day of Inclusion and the Special Olympics Donut, CLICK HERE.
For a complete list of Rock the Rink tour dates in October and November and to purchase tickets, CLICK HERE.