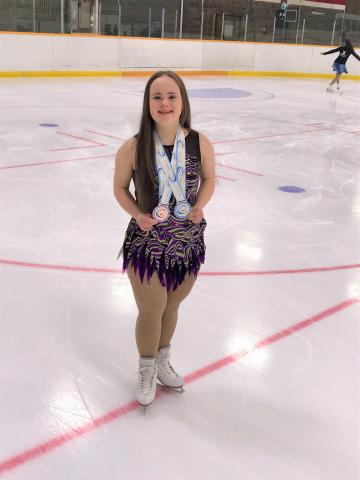 Athlete: Julia Romualdi
Age: 23
From: Timmins, Ont.
Rock The Rink performance: October 29 at GFL Memorial Gardens
1.    How long have you been figure skating?
I have been figure skating for 20 years. I started at a very young age.
2.     How long have you been involved with Special Olympics?
I have been involved with Special Olympics for over 20 years.
3.    What other sports do you play?
Other sports I play are soccer and track and field. Also, I participated in golf, rhythmic gymnastics and downhill skiing.
4.    What is the biggest figure skating competition/performance you've done to date?
My biggest skating competition was the 2015 Canada Winter Games in Prince George, B.C., where I won a silver medal.
5.    What was your reaction when you found out you'd be performing at Rock The Rink?
My reaction to performing at Rock The Rink is that I am so excited to be involved and I am proud of myself. I couldn't believe that this was happening to me. This is a huge honour.
6.    How are you preparing for this performance?
To prepare for this performance I am eating healthy, doing my exercises and dryland training. I will be renting extra ice time to practice and to learn a new routine.
7.    Who is your favourite figure skater(s)?
My favorite figure skater is Joannie Rochette, because she is a beautiful skater and she is so graceful. Also, reading the story of her mom passing away and she still went on the ice to compete is inspiring.
8.    What do you love about skating?
I love skating because I love the feeling of being on the ice. It feels like I'm flying. I enjoy competing and performing in front of lots people.
9.    Tell me about the routine you'll be performing at Rock The Rink?
My new routine for Rock The Rink will be performed to the song "Fly," by Avril Lavigne, who is a Special Olympics ambassador. I love this song because the words describe my skating journey.
10.    What do you like about Special Olympics? How has it changed your life?
I enjoy Special Olympics because I can have friendships and relationships with other athletes. Special Olympics has changed my life because I wanted to be included in as many activities as possible. I started with small tasks, which have led me to reach my dream of public speaking. I have even been able to participate in provincial and national committees.
11.    What would you like to say to Tessa Virtue and Scott Moir for inviting you to perform alongside them?
I would to thank everyone who made this opportunity possible. It will be an honour to perform alongside these great skaters. I'm so grateful to Tessa and Scott and all the skaters with Rock The Rink Tour for showing the world the importance of inclusion and helping to create a more inclusive future. I look forward to meeting all of the skaters. I will tell them a little bit about myself and maybe exchange autographs with them.
12.    After Rock The Rink, what's next? 
After Rock The Rink, I will continue to perform at competitions. The next big goal I am working towards is to someday qualify for the Special Olympics Canada Winter Games.