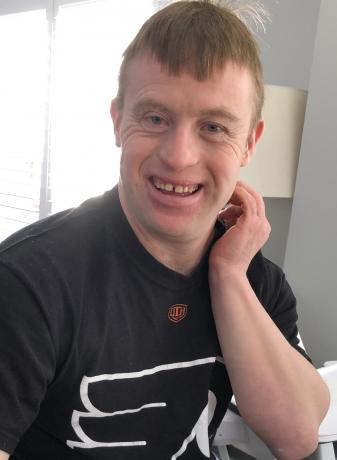 Athlete: Tim Goodacre
Age: 34
From: Dundas, Ont.
Rock The Rink performance: November 2 at Memorial Auditorium in Kitchener, Ont.
1.    How long have you been figure skating?
I've been skating about 18 years.
2.    How long have you been involved with Special Olympics?
About 18 years.
3.    What other sports do you play?
I compete in Special Olympics along with figure skating in golf and Powerlifting. I also swim, ski, play table tennis, snooker, run and have done a triathlon with my family.
4.    What is the biggest figure skating competition/performance you've done to date?
World Championship for Special Olympics in USA. World Games in South Korea and Austria.
5.    What was your reaction when you found out you'd be performing at Rock the Rink?
Very, very excited. 
6.    How are you preparing for this performance?
When doing 'shoot the duck' during my routine I have been practicing waving to the audience!!
7.    Who is your favourite figure skater(s)?
Scott and Tessa
8.    What do you love about skating?
Learning new tricks, exercise and choosing the music.  When I hear a piece of music I like, I always think of skating to it. I'll pretend to be skating around the house to different pieces of music.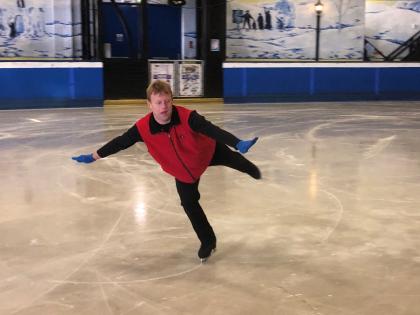 9.    Tell me about the routine you'll be performing at Rock the Rink?
I will be skating a routine to James Bond music. I like to be Daniel Craig.
10.    What do you like about Special Olympics? How has it changed your life?
My friends, my coaches. Travelling to World Championships and going to award dinners!
My brother married a Special Olympics figure skating coach that he met at one of my competitions and I was Best Man. They have two children.
11.    What would you like to say to Tessa Virtue and Scott Moir for inviting you to perform alongside them?
Thank you Scott and Tessa. It will be fun to skate with you. I want to learn new skating tricks. You  win first place on TV and I like to win first place just like you.
*A note from Tim's family:
As Tim's family, we would  like to extend to Scott and Tessa a big thank you for this ground-breaking initiative. 
It speaks volumes about how they are giving back to the sport. Tim works hard and loves his skating and to be given this opportunity to showcase his talent is wonderful.
We feel confident that the audience will enjoy his presentation and without Tessa and Scott that would not be happening. 
Tim will be accompanied by his coach, Jenna and her three-year-old daughter Tessa will be in the audience and no guessing who she is named after!
12.    After Rock the Rink, what's next? 
My next big goal is The Special Olympic Canada Winter Games in Thunder Bay. 
Also to skate with Scott and Tessa again.