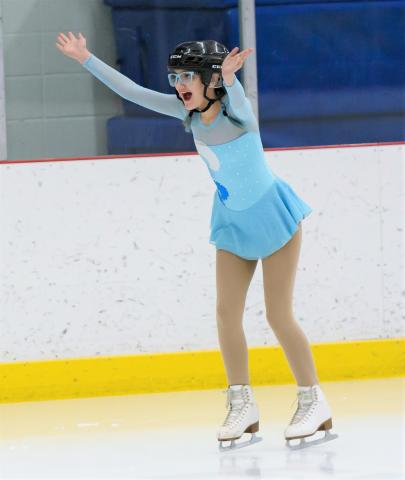 Athlete: Moriah Van't Land    
AGE: 13
FROM: Calgary, AB
ROCK THE RINK PERFORMANCE: October 17, 2019 at ENMAX Centre in Lethbridge, AB
1.    How long have you been figure skating?
Seven years.
2.    How long have you been involved with Special Olympics?
Two years.
3.    What other sports do you play?
I like swimming and playing outside.

4.    What is the biggest figure skating competition/performance you've done to date?
Skating in the Special Olympics Alberta Winter Games in Calgary in February 2019.
5.    What was your reaction when you found out you'd be performing at Rock the Rink?
I was happy and a little bit scared.
6.    How are you preparing for this performance?
I am practicing lots. I did lots of summer skating and off-ice training. Now I practice three days a week.
7.    Who is your favourite figure skater(s)?
Me!
8.    What do you love about skating?
I love spins and skating fast. I love skating in front of an audience.
9.    Tell me about what you'll be performing at Rock the Rink.
It's a silly song about how the judges should give me a "10"! I like jokes. It's lots of fun to be a comedian in my program.
10.    What do you like about Special Olympics? How has it changed your life?
Special Olympics gives me a chance to win gold medals! I'm going to be famous!
11.    What would you like to say to Tessa Virtue and Scott Moir for inviting you to perform alongside them?
Thank you! I feel very special.
12.    After Rock The Rink, what's next? What is the next big goal you are working toward?
I want to keep winning medals at competitions. I want to improve my spiral.
I want to skate in the Special Olympics World Winter Games.