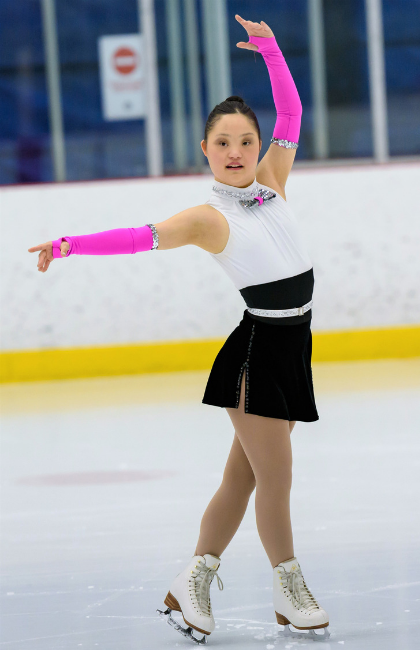 Athlete: Meg Ohsada
Age: 25
From: Canmore, AB
Rock The Rink performance: October 10 at Westerner Park Centrium in Red Deer, Alta.
1.    How long have you been figure skating?
I was 8-years-old when I began taking group lessons at a local skating club with my sisters. I have been skating for 17 years.
2.    What other sports do you play?
I am a Special Olympics rhythmic gymnast. I am a competitive dancer and study ballet, contemporary and jazz. I have participated in Special Olympics inaugural dance competitions in Los Angeles and Graz, Austria.
3.    How long have you been involved with Special Olympics?
I joined Special Olympics in 2006. So, it's been 13 years!
4.    What is the biggest figure skating competition/performance you've done to date?
I competed at Special Olympics World Winter Games in Pyeong Chang, Korea in 2013 and I got two silver medals.
5.    What was your reaction when you found out you'd be performing at Rock the Rink?
It has been my dream to skate with Canadian Olympic skaters for a long time. I feel like one of them as I train and love the sport like them. So, it is literally my dream come true!
6.    How are you preparing for this performance?
My coaches give me a great training plan and instructions to skate at my best. I would like to skate really well, so I can show many people my potential and the joy of skating.
7.    Who is your favourite figure skater(s)?
I have many, but the best three are Tessa, Scott and Patrick!
8.    What do you love about skating?
I feel free and beautiful when I skate with music. I can remember choreography, while language and conversation is difficult for me. I love to interpret music through movements.
I'm grateful that Tessa and Scott are seeing skating is very important for Special Olympics athletes and give us this incredible opportunity. It is very meaningful for us to be visible, and they are the true trail blazers for "Choose to Include. -- Meg ohsada
9.    Tell me about the routine you'll be performing at Rock the Rink.
I chose the song This Is Me from The Greatest Showman. I watched the movie and loved the message in the song. My coach gave me a perfect choreography to showcase my strength and passion.
10.    What do you like about Special Olympics? How has it changed your life?
My mom says it's important for everyone to have dreams and goals. Special Olympics guides me to have those. I also love traveling for Special Olympics events.
11.    After Rock the Rink, what's next? 
I will keep skating as it is my passion. I am an artist, so I will keep painting and hopefully, I will have enough collections to have my own exhibition in the future.
13.    What would you like to say to Tessa Virtue and Scott Moir for inviting you to perform alongside them?
I'm grateful that Tessa and Scott are seeing skating is very important for Special Olympics athletes and give us this incredible opportunity. It is very meaningful for us to be visible, and they are the true trail blazers for "Choose to Include."