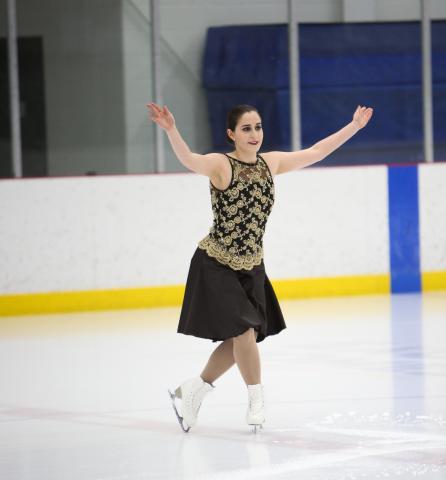 NAME: JorDen Tyson
AGE: 26
FROM: Calgary, AB
PERFORMING: October 13 at Revolution Place in Grande Prairie
1.    How long have you been figure skating?
I have been figure skating nine years. I learned to skate in 2010 when I joined Special Olympics.
2.    How long have you been involved with Special Olympics?
I have been involved since Spring 2010. I joined Special Olympics to lose weight and be healthier. I lost 70 pounds and became healthier and happier.
3.    What other sports do you play?
I am involved in rhythmic gymnastics, which I train in, but I take ballet, yoga, pilates and train in my gym to stay healthy and to be strong to skate.
4.    What is the biggest figure skating competition/performance you've done to date?
I had the chance to compete at the Special Olympics World Games Austria 2018 and I won a gold medal.
5.    What was your reaction when you found out you'd be performing at Rock the Rink?
I was so excited cause I would get a chance to show people that Special Olympics athletes can skate.
6.    How are you preparing for this performance?
I am on the ice seven times a week with my coaches Lizzy Bolzon and CJ Fernet. I take yoga, pilates and ballet, but I am also training to represent Alberta at the Special Olympics Canada Winter Games in Thunder Bay. It will be stiff competition in Thunder Bay, so I hope to be ready.
7.    Who is your favourite figure skater(s)?
Patrick Chan and Kaetlyn Osmond.
8.    What do you love about skating?
Ice skating is like dancing on ice. I danced for 12 years before I joined Special Olympics.
9.    Tell me about what you'll be performing at Rock the Rink.
The song is La Isla Bonita by Madonna, it is a gypsy tango that I love to perform.
10.    What do you hope the audience will take away from your performance at Rock the Rink?
That Special Olympics should be given the chance to be able to become athletes or anything thaty they want to do and are interested in.
11.    What do you like about Special Olympics? How has it changed your life?
What I like about Special Olympics is that I have friends that look out for me and that I am happy to see. We compete against each other, but when we are done competing we are friends. Also, Special Olympics has given me a chance to be an athlete with dreams and aspirations.
12.    After Rock The Rink, what's next? What is the next big goal you are working toward?
I have to be ready to compete for National Games and I have to be ready as the competition is stiff.