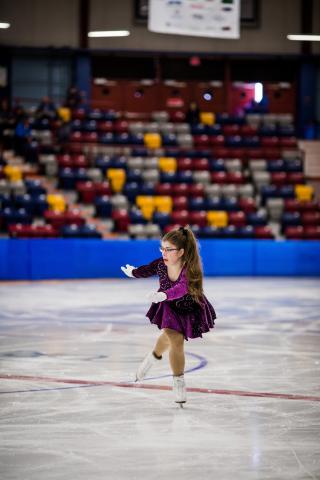 Athlete: DARLENE JAKUBOWSKI    
AGE: 27
FROM: FORT ST. JOHN, B.C.
ROCK THE RINK PERFORMANCE: OCTOBER 11 Dawson Creek, BC - Encana Events Centre & october 12 Prince George, BC - CN Centre

1.    How long have you been figure skating? 
20 years.
2.    What other sports do you play? 
Rode Horses for two or three years about 15 years ago, and bowling with school.
3.    How long have you been involved with Special Olympics? 
Started with Special Olympics in 1994
 
4.    What is the biggest figure skating competition/performance you've done to date? 
World Games in Austria.
 
5.    What was your reaction when you found out you'd be performing at Rock the Rink? 
Couldn't keep a smile off my face, especially when I found out Elvis Stojko was skating too.
6.    How are you preparing for this performance? 
Had a new program made for this performance made mid-August. I've been practicing for several weeks. 
7.    Who is your favourite figure skater(s)? 
Elvis Stojko, Tessa and Scott and Patrick Chan. 
 
8.    What do you love about skating? 
Being on the ice and preforming for people you know. 
9.    Tell me about the routine you'll be performing at Rock the Rink?
It's a new solo. I love the music and even more preforming it. It has some of my favourite jumps and skating skills featured in it.   
10.    What do you like about Special Olympics? How has it changed your life? 
Making new friends and getting to travel to new places. 
11.    What would you like to say to Tessa Virtue and Scott Moir for inviting you to perform alongside them? 
Thank you so much! It's an honour and a privilege. 
12.    After Rock the Rink, what's next? 
To perform again for a live crowd, pass a few more Skate Canada tests, and maybe go to Special Olympics World Games again.