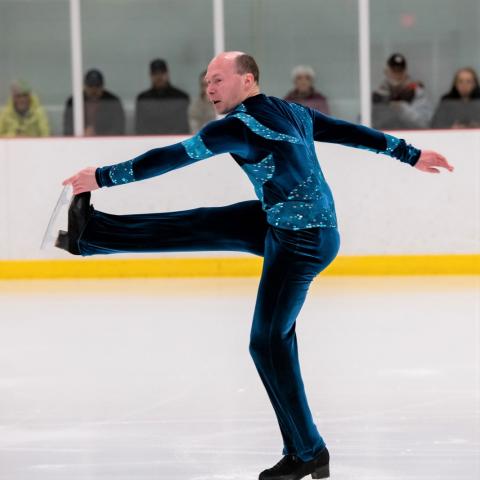 Athlete: Marc Theriault 
AGE: 41
FROM: SURREY, B.C.
ROCK THE RINK PERFORMANCE: October 5, 2019 at ABBOTSFORD CENTRE
1.     How long have you been figure skating?  
Skating since the age of six (35 years)
2.    How long have you been involved with Special Olympics? 
Joined in 1995 (24 years)
3.    What other sports do you play?  
Soccer, softball, 10-Pin Bowling, curling, athletics, golf.
 
4.       What is the biggest figure skating competition/performance you've done to date?  
        I have attended 5 World Games for figure skating :
        2001 Anchorage Alaska - Gold Medal - Level 5 Singles 
        2005 Nagago Japan - Gold in pairs with Alexandra Magee (Level 2 Pairs) and Silver - Level 6 Singles
        2009 Boise Idaho - Gold Medal - Level 6 Singles
        2013 Pyeongchang South Korea - Gold Medal - Level 6 Singles
        2017 Graz Austria - Level 6 Singles
        
My most memorable games was 2013 - where I mentored some rookie figure skating athletes on Special Olympics Team Canada  - one of them was my competitor in Level 6 (Jonathan from Ontario).
Winning the 2001 Games in Anchorage Alaska was very special as it was my first World Winter Games and I competed against six other skaters to win gold.  
 
4.    What was your reaction when you found out you'd be performing at Rock the Rink?  
I was very excited that I will be able to show the audience what I can do on the ice as a Special Olympics athlete.
 
5.    How are you preparing for this performance?  
I am working with my long time (24 years) coach Elizabeth Roman on a new routine.  I currently practice four times per week in figure skating.
 
6.    Who is your favourite figure skater(s)?  
I have always loved watching and cheering on Patrick Chan -- he is my role model.  Prior to Patrick Chan I enjoyed growing into the sport with Kurt Browning.
 
7.    What do you love about skating?  
I am able to use music to demonstrate my skating moves on the ice. I enjoy the physical workout that I obtain from the sport and I have grown to love all aspects of skating.
 
8.    Tell me about the routine you'll be performing at Rock the Rink?  
I will be skating to Roch Voisine "Living out my Dreams."
 
9.    What do you like about Special Olympics? How has it changed your life?  
Special Olympics has shown me that I can achieve my goals both as a person as well as in the sports that I participate in. I have met many friends along the way and some of the athletes now look up to me as a mentor in many of my sports. Special Olympics has shown me a work ethic that I apply to my sports as well in my day-to-day life. Special Olympics has had a huge impact on my physical health and I feel so much healthier because of the daily routines that I have included into my day-to-day activities.
 
11.   What would you like to say to Tessa Virtue and Scott Moir for inviting you to perform alongside them?  
"Thank you for including me as well as my fellow figure skating athletes to participate in these great shows.  I truly appreciate this opportunity which I will cherish for the rest of my life -- it is truly a great gesture on their part to have included Special Olympics as part of the programming and I look forward to showing everyone what I have achieved in Figure Skating over the years."
 
12.   After Rock the Rink, what's next? 
I am currently working on preparing myself for the 2020 National Games in Thunder Bay, Ontario.  This time I will be competing in the Open Level for Free Skate and in Level 5 for Dance.  I hope to skate my programs clean and that I am able to show the audience how I have improved since the last National Games in Corner Brook NF.  If I skate clean I hope to be chosen to be part of the next World Games in Sweden in 2021.