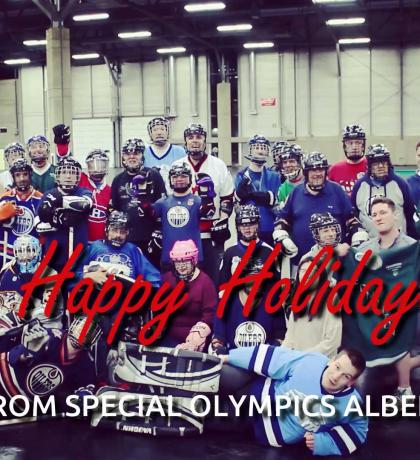 Celebrate with Special Olympics
Special Olympics Alberta would like to celebrate the holidays with you!
"I am proud of the year we had! From athletes representing our country in Austria to our outstanding athletes competing in the heat of Medicine Hat Games, we had a phenomenal year. We are continuing to be leaders in out country to push for inclusive communities with Unified Sports and provide more opportunities and education on fitness and nutrition with our Healthy Athletes programs and support from our national partner Sobeys," said president and CEO, Johnny Byrne.
"Each year, I'm amazed at the dedication and enthusiam our LETR members bring to ensure we have funds and resources and motionball for striving to reach the next generation of partners. We are grateful and humbled to have the support we do in Alberta. Thank you to everyone who has taken on the challenge to spread our movement! Have a wonderful holidays and we look forward to seeing you next year to celebrate a milestone of 50 years of special olympics!" 

Special Olympics Alberta thanks to all our wonderful athletes, coaches, volunteers and partners who made 2017 amazing. Check out our video on how the movement has grown and all the fantastic achievements across the province.
Our print holiday card was designed by our talented athlete, Becky Riddell, from Calgary. Find out more about her and her design.
We are excited to start the new year with you and more fans and supporters who wil be part of our inclusion revolution and 50th Anniversary celebration! #ChooseToInclude