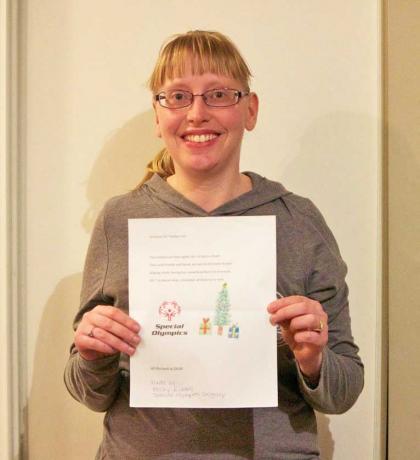 Becky Riddell has been doodling forever, a perfect hobby for creating the 2017 Special Olympics Alberta Holiday Card.
"I like writing poems and drawing and I just came up with the poem at the top of my head," said Riddel. 
"I thought I would add the trees, presents and Special Olympics symbol too." 
Becky Riddell was introduced to Special Olympics by her husband, Jeff Riddell in November of 2009 and since then she's been competing in curling and bocce and stayed with the movement because she likes learning skills and meeting new friends. 
For Becky, the holidays is all about family and friends. She is looking forward to her family visiting her from Nakusp, BC and taking part in their traditional imaginary gift exchange where family members make up a fun story for each family member as part of their Christmas gift. 
"Our holiday tradition is a family imaginary gift exchange where you write a scenario that is fun for the person like wishing someone can meet an alien," said Riddell.
From athletes like Becky and from Special Olympics Alberta, we would like to wish all our athletes, coaches, volunteers, fans and supporters a Happy and Healthy Holidays! 
Look for your 2017 Special Olympics Alberta Holiday card in the mail or your email inbox this season.