Do you have some amazing members that you would like recognized? We would love to see you send in some nominations for our SOA Annual Awards!
In the past we have found that award nomination forms were too lengthy and time consuming. This year we have reduced the number of questions to make the process simpler and more accessible to all.
Please share these links to the nominations with your members in as many ways as you can. Through social media, email, or whatever works best for your affiliate!
Below are the links to the Annual Award nomination forms:
LETR Outstanding Contributions
We look forward to seeing your nominations come in for some of your amazing members.
2019 Awards
FEMALE ATHLETE OF THE YEAR: CHYANNE ROBERTSON (RED DEER)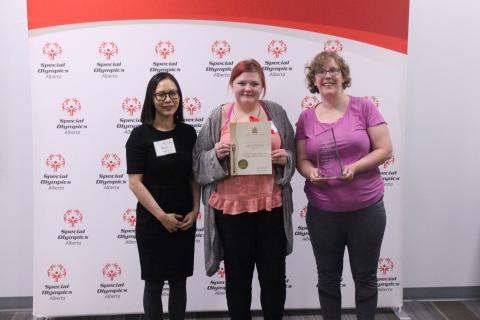 Over the past 8 years Chyanne has participated in numerous competitions provincially and nationally, winning gold and silver in Provincial floor hockey and playing in the bronze medal game at Nationals in St. Albert. Chyanne's commitment to her sports is exemplified by her dedication to attending practices and competitions. In her second year of floor hockey, she was the youngest athlete and the only girl with the B team and quickly became one of the most skilled players on the squad. Whether she is bowling, playing bocce, soccer or floor hockey she trains hard, gives her all, and learns from her mistakes. She has developed into a skilled all-around athlete with a goal of becoming better each year.
MALE ATHLETE OF THE YEAR: DONALD BOOTSMA (WETASKIWIN)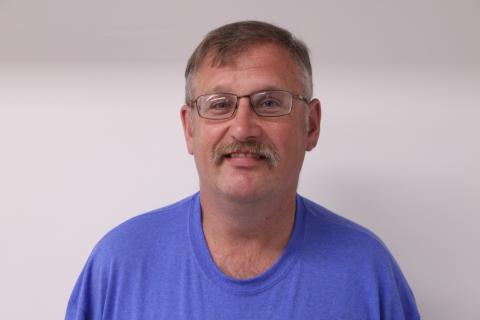 56-year-old Wetaskiwin curler Donald Bootsma is a leader on-and-off the ice and these qualities helped inspire his team to victory at the 2019 Provincial Games.
Donald has an incredible work ethic that has allowed him to transition into a skip role with his Wetaskiwin curling team.
While he has been curling for 14 years, he is still motivated to learn new skills like reading and calling the ice.
He is a respectful teammate, opponent, and friend. If you ask anyone about Donald Bootsma you will be greeted with a smile and a positive remark.
ATHLETE SPIRIT AWARD: RON COFER (LAC LA BICHE)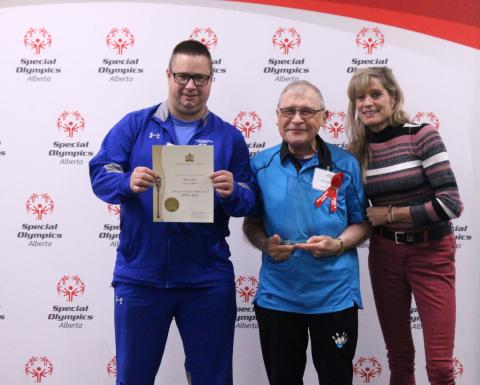 Ron Cofer currently sits on the Lac La Biche Affiliate Management Committee as their athlete representative.
He is always prepared for meetings and helps with fundraising wherever he can.
Anytime they set up a table in the community to encourage volunteers, coaches or athletes to get involved, Ron is always there helping and sharing his experiences with anyone.
Ron is always ready to offer a hand to fellow athletes. He is always encouraging fellow athletes and loves being part of the team.
FEMALE COACH OF THE YEAR: MARIE PAYNE (RED DEER)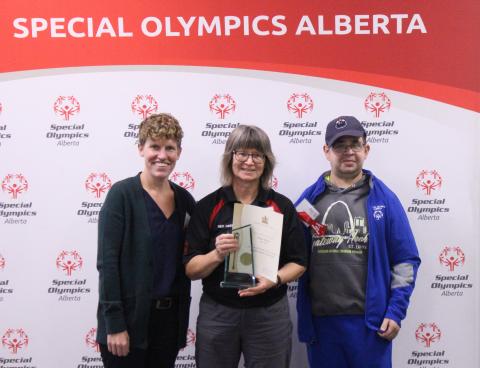 Marie has attended Provincial and National Games in both athletics and curling during the 15 years she has been involved with Special Olympics Alberta-Red Deer.
She has recently taken on the role of training coach for speed skating.
Her teams and individual athletes have done exceptionally well, winning medals at all levels of competition - the latest being a gold medal in curling at the Provincial Games in Calgary.
Marie was valuable member of SOA-Red Deer's AMC Committee for three years, in her role as Head Coach of athletics and still attends meetings as needed to share her knowledge and expertise.
MALE COACH OF THE YEAR: DAN MULLEN (CROWSNEST PASS)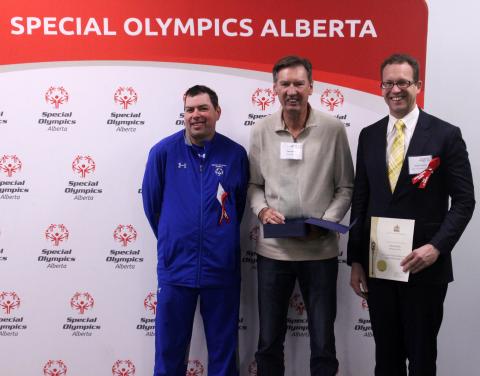 Dan Mullen is the fearless leader of the Special Olympics Alberta-Crowsnest Pass community program.
He is the Head Coach of the alpine skiing and golf program and has helped coach his athletes to every level of competition from local events to the world stage.
Dan is continually encouraging people to help out with the programs and his enthusiasm exudes to the other volunteers who are always thrilled to help at events.
From set-up to take down, Dan is more than willing to assist wherever he can and truly exemplifies the qualities instilled to be a great coach.
TEAM OF THE YEAR: ST. ALBERT WARRIORS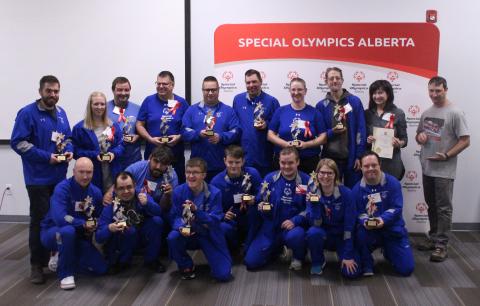 Athletes:

Robert Dziarmaga, Martin Tittle, Dale Kelly, Nicholas Nadeau, Joshua Petrone, Michele Morrie, Mitch Lyle, Rene Vredegoor, Phillip Zuk, Michelle Tschetter, Jake Weismantel, Dallas Sorken, James Morris, Scott Vodola
Coaches: Matt Pedwell, Chelsee Pedwell, Ryan Cole
For the first time this past February, the Warriors won their division at the Provincial Games. St Albert has two floor hockey teams and with the Warriors having older more experienced players, they are counted on to assist the younger team players with skills and drills in practice, as well the players are matched up in a mentor/mentee relationship. Many of the athletes on this team are a part of the local Athlete Leadership Community and are the first to volunteer for the special events hosted by our affiliate or Special Olympics Alberta.
VOLUNTEER LEADERSHIP AWARD: BARB UMPHERVILLE (WEST CENTRAL)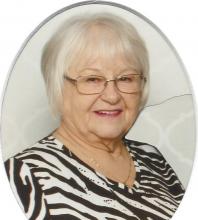 Barb is a long term committed volunteer that has always stepped up to the plate to do whatever needs to be done, to make things happen for our athletes.
She has tirelessly volunteered as treasurer and coach for bocce, bowling, and snowshoeing. Barb started the local Special Olympics club 30-years-ago as Lac St. Anne.
And for all 30 years, Barb has given her all to the West Central affiliate. She is caring and athlete focused, always there to support and enrich any program that West Central runs.
RISING STAR VOLUNTEER AWARD: KEENAN HOLLINGSWORTH (RED DEER)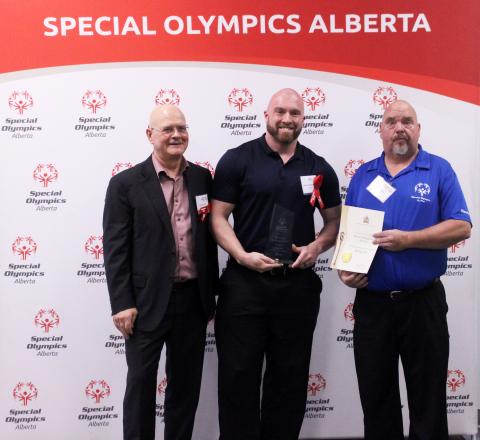 Keenan is a born leader and role model.
He has the ability to connect with his athletes on an individual basis, encouraging them to give their best effort and drawing out their natural talents.
He gives a 100% effort in everything he does whether it's running the weekly training sessions, liaising with the gymnasium management or working with the Affiliate Management Committee to ensure his athletes have the resources needed to train and compete.
UNIFIED SCHOOL AWARD: COLD LAKE HIGH SCHOOL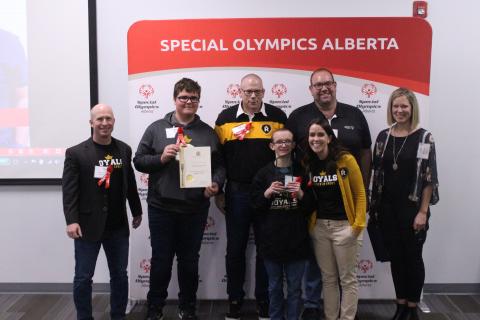 Cold Lake High School sets a positive example for other schools in their region with their annual Unified Bean Bag Toss event, which showcases custom logo'd Baggo boards and the traditional cha-cha-slide after lunch. They strive to make this event like any other tournament their school sports teams take part in- teachers and students are encouraged to wear their school swag the day of the event and different classes show up throughout the day to cheer on all of the teams. CLHS was our Alberta representatives at the Special Olympics Ontario Youth Summit at the 2019 Invitational Youth Games, where they took over the ASAA Instagram account to interview the other Alberta school teams. The school also sent a team to the first Unified multi-event at the 2019 ASAA Track & Field Provincial Championships in Calgary.
LETR OUTSTANDING CONTRIBUTIONS AWARD: MATT BURTON (LETHBRIDGE)
Matt has been volunteering with LETR for 6 years.  He is an integral member of the SW region team and is always viewing their events from a perspective of "what's best for the athletes".  Matt has taken on assisting the chair of the region with leading all LETR events within the region.  Matt currently attends affiliate meetings to keep them up to date on what is going on with LETR in the region.  Even though Matt juggles a fulltime position with the Alberta Sheriffs, is a volunteer firefighter and has a family, he always has time to visit and build relationships with athletes when he's out in the community.  Matt has been a strong advocate for ensuring athletes are invited to Law days at the courthouse and even deputizes and athlete for the day to help them out.  Matt truly demonstrates how working together with the affiliates can increase the fundraising potential of our events.
LETR COMMUNITY SPIRIT AWARD: LACOMBE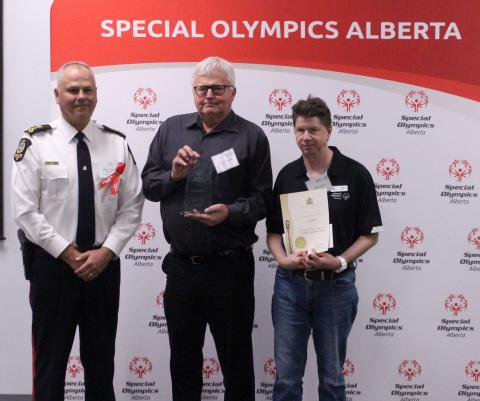 Lacombe is the recipient of the LETR Community Spirit Award this year because of their steady dedication to LETR and their fundraising events.
For several years Lacombe has worked with Constable Hewitt to hold Cops, Pops and Pizza events in Lacombe.
Their continued support of this event has been notable but it is their dedication to LETR events outside of LETR that is truly commendable.
For many years the Lacombe affiliate have organized and transported their athletes to LETR events in Red Deer.
From working outside of Walmart with law enforcement members to cheering on plungers, the Lacombe affiliate goes over and above to keep connected and involved with LETR.
MURRAY KOCH YOUTH DEVELOPMENT AWARD: MEDICINE HAT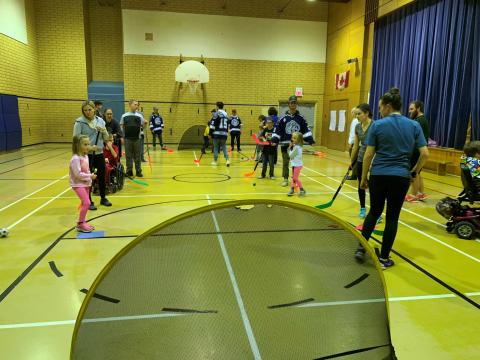 In just one year, the Medicine Hat affiliate started a Young Athletes program, which has already blossomed into the largest program in the province.
Under the tutelage of excellent program coordinators, Medicine Hat has instilled their incredible work ethic and positivity to create a program that offers Young Athletes the ability to develop fundamental movement and physical literacy skills.
The sky is the limit for a program built around incredible volunteers who are dedicated to athlete development and inclusion.
MDA COMMUNITY LEADERSHIP AWARD: MEDICINE HAT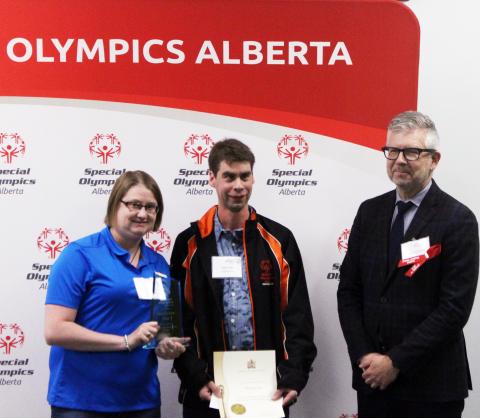 Medicine Hat is a community that is always thriving.
Their numbers are up again increasing their athlete total by an impressive 50 per cent!
They have recruited and developed a new Affiliate Management Committee that is thriving. They are always committed to fundraising whether it is a local event or a national campaigns and are willing to try new events.
This year they implemented their Young Athletes program through an innovative partnership with a local Disability Sport Group and they now already have the largest in the province.