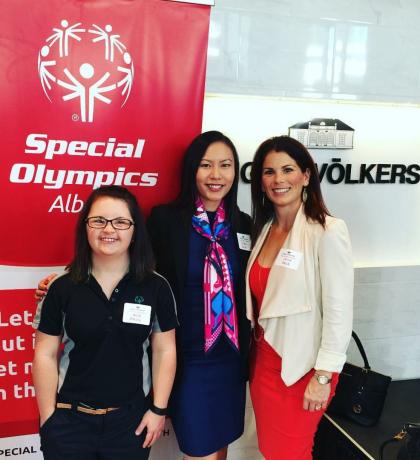 "Go for it! Once you start, you will never leave - I speak from experience." – Wilma Shim, Special Olympics Alberta Board Chair on coaches looking to get involved with Special Olympics.
For the past 11 years, Wilma Shim has been a cornerstone of Special Olympics Alberta through her dedication to the organization.
She is actively involved in multiple roles and has been vital in raising awareness for Special Olympics programs across the province.
Wilma is currently the Chair on the Board of Directors for Special Olympics Alberta and formerly acted as a Director on the board. 
She also assists as a volunteer coach with the Special Olympics Alberta-Calgary powerlifting team, where she is able to share her knowledge and advice as a former competitive powerlifter.
"I competed at the World Junior Powerlifting Championships in 2007 and was retiring from competitive competition to focus on law school," said Wilma. "I wanted to stay involved with the sport by coaching. I continue to be involved because of the athletes – They are amazing!"
Incredible experiences define Wilma's tenure with Special Olympics and one that resonates with her is working with an athlete who had never powerlifted before.
Wilma helped this athlete progress from struggling to lift a wooden stick to guiding them week-by-week to a point where they were lifting heavy weight.
"It was amazing to see such an accomplishment and being a part of the journey was special," said Wilma. "Seeing this athlete's face and witnessing the joy with the accomplishment was incredible."
Memories like this echo Special Olympics' goal to empower athletes through sport and Wilma's commitment has proved to be integral helping athletes achieve their dreams.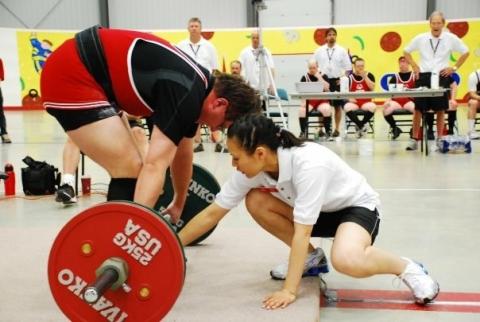 Opportunity and support are two key factors behind why Wilma believes the Special Olympics movement is so important.
"The opportunities that Special Olympics provides to individuals with an intellectual disability is amazing," said Wilma. "I have seen athletes 'come out of their shell' and have witnessed firsthand the powerful impact that sport has on the individual. The pure joy that the athletes have when they participate in their respective sport is amazing to watch."
2018 marks the 50th Anniversary of Special Olympics and the challenge to make inclusion a global reality.
Individuals with intellectual disabilities and their loved ones are faced with challenges, both big and small, every single day of their lives – challenges most will never encounter.
For 50 years, Special Olympics Canada has been giving its athletes and participants the strength, determination and confidence to accept those challenges in sport – and in life, giving them the courage to stare down any hurdle and respond: Challenge Accepted.
"People should accept the challenge because building an inclusive Canada is important for current and future generations," said Wilma. "Accepting the challenge will help raise awareness about the importance of inclusion."
Wilma added that, "there has been so much momentum and growth with the movement, especially surrounding the 50th Anniversary celebrations - it will be great to keep the momentum going and build on this growth."
One of the keys to realizing this goal is the next generation and Wilma believes that inspiring our youth to be more inclusive now will benefit this value in the coming years.
While she has many goals for Special Olympics Alberta, her personal goal is to have badminton recognized as an official sport.
When badminton was offered as a demonstration sport Wilma acted as the Head Coach and she would love to spearhead the program in Calgary.
Wilma is a champion of inclusion and her leadership has helped Special Olympics Alberta thrive.
Her commitment to the organization and the athletes has inspired volunteers across the province to carry our values with pride: empowerment, excellence, respect, diversity, and inclusion.