50 Years of Empowerment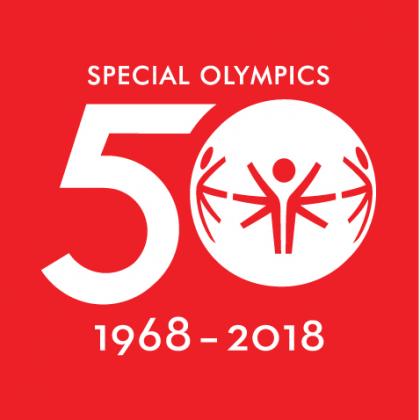 Since 1968, Special Olympics has been changing attitudes about the talents of people with intellectual disabilities. In the midst of all of the tumultuous unrest of 1968, an event was held at Soldier Field, in Chicago, Illinois on July 20. By its very nature, this was a revolutionary moment in time.
The world witnessed for the first time a sports competition for people with intellectual disabilities. For our year-long anniversary, we are celebrating 50 years of joy, courage and empowerment. Starting July 2018, these global Special Olympics celebrations will inspire new generations to see the beauty, dignity and talent in each of us. We are celebrating 50 years of creating a more inclusive, welcoming world for all!
 
Make Inclusion For All a Reality
Challenge Accepted
Individuals with intellectual disabilities and their loved ones are faced with challenges, both big and small, every single day of their lives – challenges most will never encounter.

For 50 years, Special Olympics Canada has been giving its athletes and participants the strength, determination and confidence to accept those challenges in sport – and in life, giving them the courage to stare down any hurdle and respond: Challenge Accepted.

People with intellectual disabilities are done being left behind. We're ready to show the world the power of inclusion.

Our athletes are up for the challenge.

Are you?
Events in Alberta
 
Alberta Sports Hall of Fame
From July to December 2018, the Alberta Sports Hall of Fame & Museum will have a Special Olympics 50th Anniversary display that celebrates the milestones of the movement in Alberta. 
Sneak peek in what's in store for our #SpecialOlympics50 at @ASHFM1 ? pic.twitter.com/UyB3wRteCr

— Special O Alberta (@SpecialOAlberta) June 28, 2018
Global Day of Inclusion events
Light Up for Inclusion
To mark this major milestone, iconic monuments and landmarks world wide will join us by lighting up RED. This will be part of a global demonstration of inclusion, as monuments from Toronto's CN Tower to the London Eye in U.K. light up in the Special Olympics colour.
Be sure you check out the landmarks in Alberta: 
Edmonton
July 17: High Level Bridge- to mark the start of the kick off the Unified Cup
July 21: ATB Place
Calgary
Lethbridge
Partnered Events
Calgary Stampede Parade, July 6
11 a.m. to 1:30 p.m., Starts 9 Ave and 1 St. SE west loops to finish at 6 Ave. and 3 St. SE
Special Olympics athletes and volunteers will be part of the Calgary Stampede parade to celebrate being the 2019 Special Olympics Alberta Winter Games host in February and the global 50th Anniversary. Check out our photos on Facebook. 
K-Days Parade in Edmonton, July 20
10 a.m. to 1 p.m., 108 St. and Jasper Ave.
Special Olympics athletes and volunteers will be the Parade Marshals in recognition of  the 50th Anniversary.
Alberta Summer Games in Grande Prairie, July 19 to 22 
Details to be confirmed. 
 
Proclamations
Across Alberta, Special Olympics Alberta requested proclamations from local to the provincial government to declare July 21 as the Global Day of Inclusion for Special Olympics.
Local Celebrations
Grande Prairie, Crosslink County Sportex, 7407 108 St. Clairmont, AB, July 21, 2018
Law Enforcement Torch Run Heroes Running FOR Heroes
October 2018, Hawrelak Park, Edmonton, AB
This run and walk event presented by the Law Enforcement Torch Run for Special Olympics Alberta and partnered with the Running Room, is an event to raise funds and awareness for the 50th Special Olympics celebration. The event will be open to the public with donations from pledges collected from participants.
 
February 8 to 10, 2019
The first provincial games to kick off a year of celebrating the Special Olympics 50th Anniversary. 
Sport competitions: 5-pin bowling, alpine skiing, cross country skiing, curling, figure skating, floor hockey, snowshoeing, and speed skating.
It is expected to have over 800 athletes from more than 23 Alberta communities and N.W.T competing in the eight sport events and expected to have over 1,000 spectators. 
Events in Chicago
UNIFIED CUP
The inaugural Special Olympics Unified Cup competition will team people with and without intellectual disabilities from all over the world. A total of 24 football/soccer teams -- from every region of the world -- will take part. These include 16 men's teams and eight women's teams. The four-day event will be held at Toyota Park.
July 17 to 20
Chicago, Illinois, USA
50TH ANNIVERSARY TORCH RUN AND ETERNAL FLAME OF HOPE
The Special Olympics 50th Anniversary Law Enforcement Torch Run Commemorative Run will include Special Olympics athletes and law enforcement officers from Illinois and elsewhere.
In addition, Chicago will mark a citywide salute to 50 years of Special Olympics. The entire city will light up with a new eternal "Flame of Hope" -- symbolizing a world of welcome and inclusion, where everyone can learn, work, compete and play with the same rights and opportunities.
July 20
Chicago, Illinois, USA  
GLOBAL DAY OF INCLUSION and Celebration Concert
Soldier Field, the birthplace of Special Olympics, will host a massive celebration, a festival of inclusion that will serve as the spark for people around the world to commit to making their cities more inclusive. This family friendly festival will offer sports activities, interactive games, exhibits, delicious food offerings, and live entertainment. As evening comes, the excitement - and crowds - will build for a star-studded evening of inspiring entertainment for more than 30,000 at Huntington Bank Pavilion at Northerly Island -- and a live audience around the world.
A Special Olympics Celebration Concert will also take place at Notherly Island in Chicago, Illinios. Chance the Rapper, Usher, Francis & The Lights, Daya, Smokey Robinson, Jason Mraz, and O.A.R. will be performing on July 21 at the 50th Anniversary Celebration Concert! 

July 21
Chicago, Illinois, USA and around the world