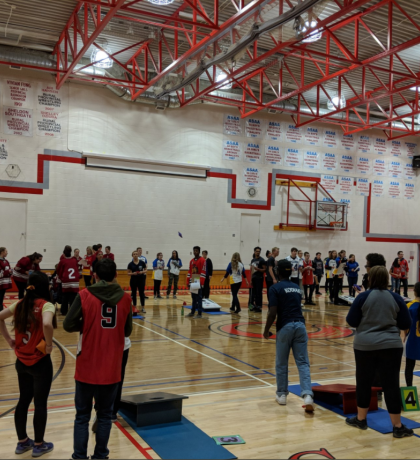 The Chestermere High School Lakers showed Unified pride on April 12 hosting their first Unified Sports event with a Unified Bean Bag Toss Tournament. 

About 100 students with and without intellectual disabilities played in a round robin bean bag toss tournament with teams from Bert Church High School, Cochrane High School, Chestermere High School and St. Martin de Porres High School taking part in the tournament. 
Last year, Bert Church High School proudly hosted the event and passed the honour to Chestermere High School who took on the tournament with a whole school approach with the school's culinary program making lunch for all the competitors and students dropping in to cheer on the competitors. The day was day celebrating the inclusive power of sports and students honoring the Humboldt Broncos wearing jerseys for Jersey Day. 
Special Olympics Alberta thanks all the schools and students for being part of Unified Sports and championing the #PlayUnified movement in Alberta! Learn more about how we're spreading the movement of Unified Sports. High School Unified Sports events would not be possible without our partner the Alberta Schools' Athletics Association. 
Proudly wearing our jerseys for Jersey day in support of #HumboltBroncos @SpecialOAlberta #makingconnections #unifiedsport @cochrane_high Huge thanks to @ChestermereHigh for hosting a wonderful event! pic.twitter.com/4RVcnolitU

— Mrs. Holzer (@mrs_holzer) April 12, 2018
Good times! #baggo #unified #kodiakpride pic.twitter.com/gN6bwMM66k

— Edmund Crame (@mrkodiak) April 12, 2018
Unified Sports action is underway with the Baggo Tournament starting up!! @SpecialOAlberta @SpecialOCalgary On a day where so many are thinking of the #HumboltBroncos playing sport for the fun of it is a fitting tribute!! pic.twitter.com/y73MjkiQpI

— Chestermere High (@ChestermereHigh) April 12, 2018