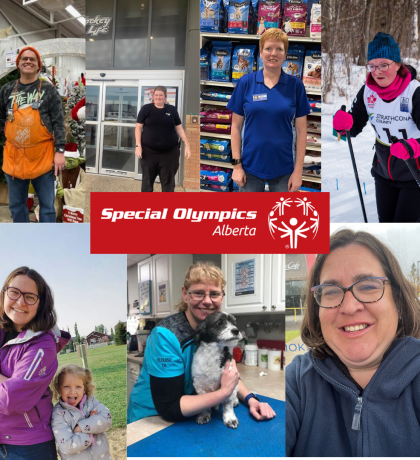 Disability Employment Awareness Month
"Everyone should be able to have a job, even someone with a disability." - Leslie White.
October is Disability Employment Awareness Month (DEAM), a month dedicated to promoting employment inclusion and increased participation of workers with disabilities in Alberta's economy. DEAM also celebrates the contributions of workers with disabilities and supports employers in practicing inclusive hiring.
The theme for DEAM 2023 is inclusion for all, a theme close to our hearts at Special Olympics. According to the World Health Organization, 15% of the world's population (an estimated 1.1 billion people) identify as having some form of disability. This represents the world's largest minority, and the only minority group that any of us can become a member of at any time. Even though the disabled community is large, the unemployment rate for adults with disabilities is almost 20% less than those without disabilities (Statistics Canada, 2017).
We share stories of how talented our athletes are in sport, but during DEAM, we wanted to share how talented they are in the workplace as well. Our athletes hold jobs in many sectors including retail, childcare, fitness and veterinary services. We asked our athletes to tell us about their jobs and why people should hire inclusively.
Nicole Whittington | Special Olympics Strathcona County
"I've been at Tim Hortons since 1996. I started cleaning tables and doing dishes, but now I do coffee in the drive-thru, and sometimes, I'm an order taker. I've also worked with the same girls for 18 years. They have supported me through Special Olympics floor hockey. I love my job because they're always good to me, and they're like family. If I need help, they help me understand everything. I also want to shout out to my Special Olympics coaches, Coach Rob, Coach Nancy, and Coach Dave; without them, I wouldn't be going to the National Games in Calgary."
Leslie White | Special Olympics Edmonton
"I have autism spectrum disorder and generalized anxiety disorder. I was only diagnosed with autism two years ago and was always told that I wouldn't live independently or have a job, but guess what? I proved them wrong: I have my own apartment and a job I love. I moved out on my own eight years ago. I moved to Edmonton from Beaumont, where I grew up, and joined Edmonton Special Olympics last year. I have done curling and walking club.
This year, I decided to join softball. I love it! My biggest accomplishment is that I hit a ball for the first time without a tee. I also received the sportsmanship award from my softball team. After I moved on my own, I got a job at Seeds and Sprouts daycare. I am float staff; I go to any room they need me. My most favourite room is probably the baby room. I love babies! Having a job has meant the world to me. I love my independence and freedom. Everyone should be able to have a job, even someone with a disability. Being inclusive is just a great idea."
Emily Ross | Special Olympics Calgary
"I work at Gymvmt (previously World Health) and do housekeeping. I have been in the company for 11 years and could not be happier. They are very supportive. These last few years haven't been easy for me injury-wise, and they couldn't have been more compassionate and supportive. From a broken foot to a bad back injury, they kept me on the team and changed whatever was needed."
Elouise Stewart | Special Olympics Bow Valley
"I work at Arrowhead Veterinary Centre. I have been there for four years. I love my job. The staff at Arrowhead are very supportive and have worked with me to create a positive workplace environment where I am included and able to perform my duties. I look forward to going to work and feel confident and needed. Everyone has abilities! Some people take longer to find them than others."
Some people need a little bit longer to learn a skill set, but once they have it, they will never forget it. Everyone deserves to feel that they are needed, and being part of the workforce does that."
Jenny Murray | Special Olympics Edmonton
"I've worked at Petsmart for 19 years. I like it there because I'm treated just like everyone else, and my hours are pretty flexible. My most favourite part is when people bring in their pets. My most favourite thing about work there is covering cash because I get to see all the dogs coming in. Also, they all made a big fuss when I brought my medal in after winning bronze at the Special Olympics World Games for soccer in Berlin, Germany."
Elisabeth Baril | Special Olympics Red Deer
"I am an athlete with the Red Deer affiliate and am in multiple sports. I have been a nanny with the same family for four years. Beforehand, I didn't know I could handle working full time. My first year with Addy, I worked Monday to Friday 8 a.m. to 4:30 p.m. I accomplished that thanks to the support of Addy's mom and dad. It has given me the confidence for future nanny interviews that I can, in fact, work full-time like everyone else.
Just like all of you without a disability, we want a bigger reason for leaving our house every day. A lot of us Special Olympics athletes are very capable of working."
Torie Langdale | Special Olympics Edmonton
"My job is at the Pro Hockey Life. I really love my job. When I am at Pro Hockey Life, I always start my shift with a positive attitude. I always help with customers and talking to my co-workers. Pro Hockey life co-workers are nice people to work with. I enjoy my job and I want to keep my job for the future. I am a hard worker at my job. I hope someday people can come visit me at my job and shop there. Pro Hockey Life is a hockey store that I love because I'm a hockey fan."
Brian Erickson | Special Olympics Grande Prairie
"I'm currently working at Home Depot in Grande Prairie, Alberta and have been with the company for 8 years, six months, and 3 days. My job titles is Lot Associate and Order Picker. It is a very physical job. In this day and age, we all could use work because of our economy."