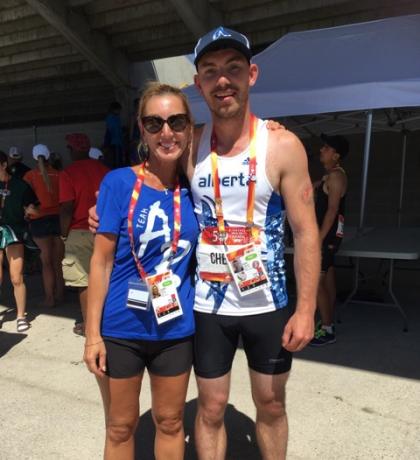 Inspirational. Motivational. Dedicated. All Star Coach.
These are just a few of the words that can be used to describe Special Olympics Alberta (SOA) coach, Marie Powell.
Marie's journey with SOA began in 2010 as a volunteer with the Active Start program after discovering it at a volunteer fair.
"I felt it was a good fit for me, as I wanted to help others feel more confident through their health goals," said Marie.
Marie's coaching resume includes coaching soccer, advanced athletics, snowshoeing since 2013, and helping out with the Run/Walk club over the past two years.
"I continue to be involved because I find Special Olympics extremely inspiring and incredibly rewarding," said Marie. "[SOA] is a supportive organization that welcomes everyone and fosters a sense of family, belonging, and respect. I admire that it builds confidence and self-esteem in our athletes, and is life changing."
In 2018 Marie acted as the Head Coach, Athletics, for Team Alberta, a journey she described as extremely rewarding, filled with joy and laughter, as the athletes worked diligently on their fitness and training to develop their skills and peak at Nationals.
Marie was captivated by the comradery that was shared amongst the team as they made personalized Team AB bracelets.

"Our team members were extremely supportive of one another, and it set the tone for an extremely successful experience for everyone," said Marie.
A memory that will stay with her was meeting her role model, Dr. Frank Hayden, which was a life-changing experience for Marie who walked away feeling motivated to become the best coach she can and continue to be an advocate for the Special Olympics movement.
"His uplifting words confirmed to me more than ever how important it is to continue the work that SO needs from its volunteers in order to progress the organization and our movement further over the next 50 years for individuals with intellectual disabilities," said Marie.
Marie is an inspirational coach and she continues to coach athletes to reach their potential and helping coaches improve their skills through things like the SOA Capstone project, which is focused on coach development in Alberta.
One of her highlights as a coach was working with a snowshoe athlete who has shown exceptional athletic development physically, socially and cognitively.
She stated that the athlete has grown from unwilling to enter the venue to competing in the Provincial qualifying event with fans cheering him on.
Her commitment and dedication to helping athletes achieve their goals is invaluable and her leadership has been recognized as she was recently selected as an Associate Coach, Athletics, for the 2019 Special Olympics World Summer Games in Abu Dhabi.
"I am looking forward to a culmination of things: representing Canada as a team at Opening Ceremonies and feeling the patriotic pride at that level as we walk in, bonding with our Athletics coaching team further as we share this incredible experience together, celebrating all the successes and personal growth of our athletes with them, meeting other team members from all over the world, and fostering awareness of the benefits of inclusion at every opportunity." – Marie Powell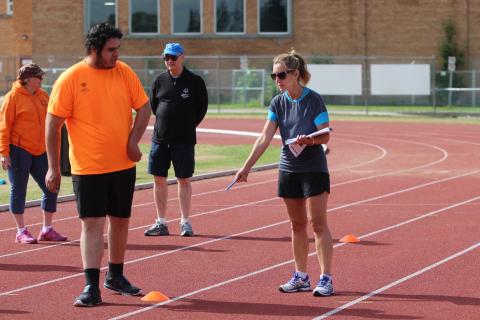 Marie is always working to improve her knowledge and abilities as a coach and has already incorporated lessons from the strength and conditioning session at training camp into her local practices.
"The message of improving by 1% just by changing the variation of squats, lunges, bridges and planks was simple and very powerful," said Marie.
She plans to continue to develop her coaching leadership skills and mentor new coaches to help improve each program for the athletes, especially ones like snowshoeing which has more than doubled since becoming the Head Coach.
"I am thankful every day for being a part of Special Olympics. It has given me a broader scope of life with purpose."
This year marks the 50th Anniversary of Special Olympics and over the next five years the organization wants to make inclusion a global reality.
Coaches like Marie are incredible advocates for the movement and this message.
"It is critical that global inclusion is all encompassing in all facets of life, in order for it to be truly inclusive. Inclusion during sport activities is a great base to build from, but we also need it in place in education, the workplace, and with family support. Only then will we capitalize on the full benefits of inclusion and create a world that reaps all the rewards that acceptance offers." – Marie Powell