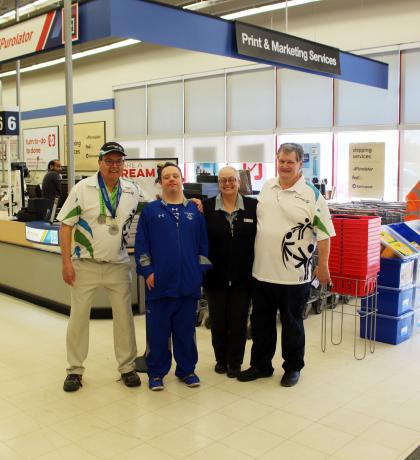 For 19 years, Staples has helped support Special Olympics athletes through the Give a Toonie Share a Dream campaign, which connects athletes to the community.
Communities that are blossoming thanks to the efforts of individuals like Janet Volman.
Janet has worked at Staples in Sherwood Park for the past five years, and has been the Services Manager there for the past year.
She is also a volunteer with Special Olympics Alberta-Strathcona County where she sits on the local board as the Media Representative.
"Janet does not have time to volunteer; however, she seems to make time for her passion," said Jeff Johnson, Special Olympics Alberta-Strathcona County Chairperson.
"Not only volunteering, she also enriches our athlete's lives in small ways that have blossomed."
Janet is committed to improving her community and this is one area where she believes GATSAD excels.
"It's all about the community," said Janet. "Staples is very big on community wherever they are and Special Olympics is a huge part of that."
Her relationship with the Strathcona affiliate developed from a business partnership into a volunteer opportunity where Janet used her media skills to create videos, posters, and take photos.
Jeff added that Janet's creativity has opened many doors for SOA-Strathcona through her help with marketing and branding, which has benefited them "beyond words."
Not only has her media skills been instrumental in their program's growth, but Jeff stated that her connection to the athletes and other volunteers has been wonderful.
"These athletes, these individuals are very important to me," said Janet. "Being part of Special Olympics, especially with Strathcona County means the world to me."
Her passion for improving the lives of others is not only evident in her commitment to Special Olympics, but in her everyday work as well.
Janet has championed the GATSAD campaign and has gone the extra mile to make sure it helps as many athletes as it can.
Her store this year has been selling cookies (83 dozen!) baked by her mom and books for 25 cents a piece with all the proceeds going to support Special Olympics athletes across the country.
The Sherwood Park Staples location has athletes in as often as they can throughout the campaign to meet the staff and interact with the customers.
"[GATSAD] is especially near and dear to my heart because I had an uncle who was special needs and I have grown up with that all my life," said Janet.
Give a Toonie Share a Dream helps more than 47,500 Special Olympics athletes across the country.
You can support the cause and inspire future generations of athletes by visiting your local Staples Canada store and making a donation today.
Each $2 donation helps build the future of Special Olympics programs in your community.
"I let [people] know just what the program means to the athletes – the comradery, the ability to compete in sports and other things that they do," said Janet. "It gives such awareness to the abilities and not the inabilities that these athletes have."
Volunteers like Janet continue to drive the Special Olympics movement here in Alberta and her dedication to campaigns like GATSAD help make dreams a reality.
"If you google volunteers, you will see a picture of Janet," said Jeff. "We have been thoroughly blessed to have Janet be part of our team."
The Give a Toonie Share a Dream campaign runs for 10 more days and you can champion the cause in your community by heading to your local Staples to donate or by visiting www.staples.ca/shareadream.
Thank you to Staples for their incredible support of Special Olympics Canada athletes, for those individuals who have contributed to the campaign, and to individuals like Janet Volman who are committed to improving the lives of our athletes.
Her next goal is making the 2021 Special Olympics Alberta Summer Games in Strathcona Country / Sherwood Park a success and she is calling on you to volunteer!
"The Games are gonna be here in 2021 and we could certainly use some volunteers," adding that "if you want to experience unconditional friendship come out to Special Olympics."