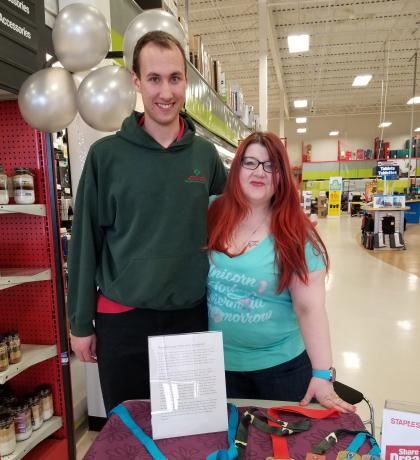 This is the 19th year of the Give a Toonie Share a Dream (GATSAD) campaign and Staples employees have been the driving force behind its success.
Employees like General Manager, Tina Manjaly have championed the campaign and not only help drive donations, but also build awareness for Special Olympics athletes across the country.
"Tina's enthusiasm for Special Olympics just boils over," said Mark Witzaney, the SOA-Llyodminster Chairperson. "She's just so positive! She says, let's just do this, we're going to raise the most money ever!"
Tina has been a Staples employee for 5 years in Lloydminster and has been a strong proponent of the campaign's success in the city.
"After making sure everything is organized for the promotional barbecue during the Give a Toonie Share a Dream campaign, she was there helping flip the burgers," said Mark.
Her enthusiasm and positive attitude are two key qualities that have made the partnership such a success and although she is currently in the process of moving to Calgary, Tina is dedicated to helping in any way she possibly can.
"As far as [GATSAD] goes this one is very special to me – I really believe in Special Olympics," Tina said. "I think it is a great organization and I think that anything I can do to help for the cause through my company I will do it."
For Tina, the campaign is about the athletes and getting the chance to meet athletes, hear them share their experiences, and celebrate their accomplishments.
Last year, Tina was able to visit a Staples in New Brunswick and had the chance to meet the face of last year's campaign – Brendon Vriesendorp – which she described as her favourite memory of GATSAD.
"He works at Staples, he stocks, he told me about what he loves to do there – he loves to talk to customers, he loves to talk about tech," Tina said. "The kid is great, he is so amazing."
The partnership between SOA-Lloydminster and Staples is a vibrant one and it has allowed them to connect for fun events throughout the GATSAD campaigns including a yearly BBQ.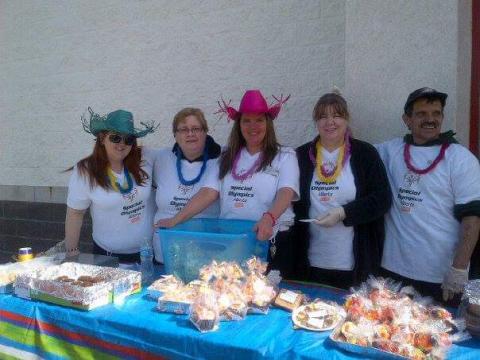 This connection is evident across the country and Tina believes it is because of the aligned values that both Staples and Special Olympics Canada share.
"It's the inclusivity that Staples holds as a value – we include everybody and no one is left out," said Tina. "We have special needs people that work in our stores."
The Give a Toonie Share a Dream campaign helps more than 47,500 Special Olympics Canada athletes pursue their dreams and by visiting your local Staples Canada store you can support the cause by donating.
Each $2 donation helps build the future of Special Olympics athletes in your community.
"Everyone deserves to be happy and live a lifestyle. If doing sports and getting out there and being able to interact with everyone makes these kids feel like they have a common lifestyle then yeah absolutely this is something that we should be doing to help them." – Tina Manjaly on why the GATSAD campaign is important
Through her work with the local Lloydminster athletes, Tina has helped breed a culture of inclusivity in the local community.
While she will be missed in Lloydminster, she is bringing her passion, energy, and dedication to a new city and will surely create a similar impact at her new Staples location.
When asked why people should come out to meet the athletes and donate to the campaign, Tina has an inspiring message to share.
"Just to think of a time when they needed help. Anybody that can reach back into [the] past and think of some time when they needed help whether it was financial, physical, social whatever kind of help they needed – just think about that time and think about what it meant for someone to help you and do it for somebody else."
The campaign runs until May 27 and we want you to champion the cause in your community. Head to Staples to donate today or visit www.staples.ca/shareadream and help Special Olympics Canada athletes pursue their dreams!
Thank you to employees and volunteers like Tina whose positivity and dedication continues to help spread the message of Special Olympics Alberta.
"We're gonna do our best to raise the money that we promised that we would. We wanna see these athletes succeed, see them have fun, and we want to see them enjoy life and I will do whatever I can to do my part," Tina said.