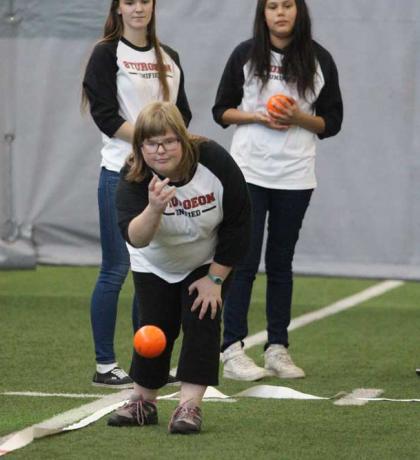 The two Unified Bocce events hit the palina.
With the continued partnership with Alberta Schools' Athletic Association, Unified Sports kicked off the start of 2017/18 season with bocce.
Bocce created a big buzz with 250 student partners and athletes practicing in their high schools and competing at the two Calgary and Edmonton events. The number of students has over doubled from the previous season.
Calgary set the pace with 166 students from seven high schools from the Calgary area to compete in a day of bocce on October 17. With 32 students, Lord Beaverbrook High School sent the largest number of competitors for any Unified Bocce event to date.
On October 23, Edmonton hosted its Unified Bocce event at Commonwealth Community Recreation Centre with 84 students from nine schools competing and playing unified. Returning teams from Sturgeon Composite High said they like attending the annual event to be part of the fun and meeting new people.
Check out the important message from Sturgeon High School students: Makenna Mallard, Harley Patterson, Shae Savoie and Markus Gauthier.
"Unified gives (students) the opportunity to play for the school team. For our school, we get to interact with students from other schools in a cooperative setting."- Shawn Irwin, Department Head of Athletics, Physical Education, and Student Activities at L.Y. Cairns.
Special Olympics Alberta would like to thank all the incredible high schools: Notre Dame High School, Lord Beaverbrook High School, Bert Church High School, St. Martin de Porres High School, Father Scollen High School, Chestermere High School, Cochrane High School, L.Y. Cairns School, Strathcona High School, Eastglen High School, Ross Sheppard High School, St. Joseph High School, St. Paul School, Sturgeon Composite High School and Fort Saskatchewan Senior High School for being part of Unified Sports. Together we are breaking down stereotypes and taking on inclusion.
A special thanks to Delia High School for taking on the Bocce Ball for All project. Check out the student's amazing video project Bocce Ball for All! - Inclusivity Project by students Alia Nielsen, Jack Adams and Serena Michie.
For more photos from the event, check out our Unified Bocce Tournament Flickr Album.
Schools who would like to take part in any of the upcoming Unified Sports events (bean bag toss, basketball and track), please contact Shanna Kurylo with Alberta Schools' Athletic Association shanna@asaa.ca or 780-422-8295.