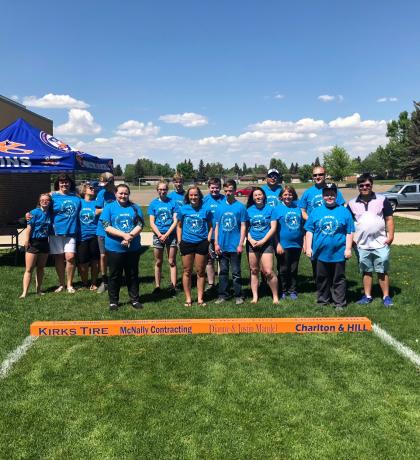 Special Olympics Unified Sports was introduced in Alberta in partnership with Alberta Schools' Athletic Association (ASAA) just three years ago, but it has already blossomed into an epicenter for inclusion in southern Alberta.
Winston Churchill High School (WCHS) in Lethbridge is one of the schools that is carrying the flag for Unified Sports in Southern Alberta.
On May 25, Winston Church High School (WCHS) in Lethbridge hosted its second annual Unified Bocce Festival, which featured 20 athletes and partners from WCHS, Immanuel Christian Secondary School, and Magrath Junior Senior High School.
Jonathan Dick, the athletic director at WCHS, said that the event was a success with current and past students helping out, as well as local law enforcement officers attending to cheer on the participants.
"I think just watching all of the students participate, work together and interact with one another towards a common goal was a real highlight," said Dick.
WCHS plans to host the festival for the third straight year in 2019 and Dick's goal is to increase the number of participants.
Unified Sports in Southern Alberta is beginning to grow and events are being suggested.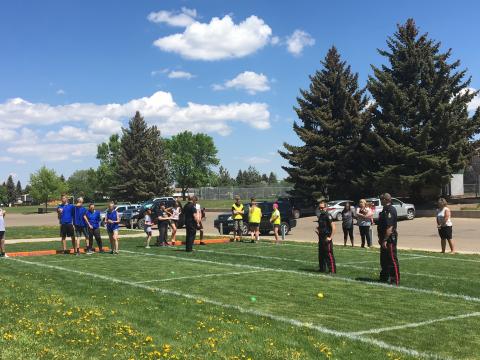 Dick has high expectations for Unified Sports in the region and hopes to see more events in the future in combination with the introduction of the program in more schools.
"I would like to see at least two events held in Lethbridge each year - one in the fall and one in the spring," said Dick. "It would be great to see every school in our region put together a Unified program in which they would have at least one team that could participate in events. It would also be nice to see teams from Southern Alberta start to attend events in other regions of Alberta and vice versa."
The WCHS Unified program, like others in the province, is in its infancy with 10 students actively participating.
They currently offer Unified bocce, but their Athletic Director, Jonathan Dick hopes to introduce basketball as the program grows in the school.
He was drawn to Unified Sports due to its inclusive nature and the opportunity it provides to students with and without intellectual disabilities to get involved.
"Being a member of a school sports team or sports event is a very valuable opportunity in which so many positive things can be gained and I feel it is important for all students to have a chance to participate in such a great experience," said Dick.
Individuals with an intellectual disability can register with Special Olympics as early as two-years-old and Unified Sports provides more opportunities for youth to belong to an inclusive community through sport.
Dick believes that Unified Sports is one of the catalysts for ending discrimination.
"I definitely see Unified Sports as a catalyst for inclusion in sports," said Dick. "A number of things, including sport involvement starts in the school years and at the school for many. Having the opportunity to participate in Unified Sports through schools gives students the opportunity to be involved in the school community in which they can take great pride in."
Having students with and without intellectual disabilities playing together on the same team has transformed the culture within the hallways according to Dick.
"I think as a Unified program builds within a school it will help to build school spirit in a way that maybe wasn't there previously," said Dick. "The involvement of all students and the inclusion of everyone can become infectious and create a very fun and positive environment for everyone."
Dick has a few goals for the Unified program including introducing a dedicated Unified coach to oversee the program, organize events, and plan trips for the students to compete in other tournaments across Alberta.
He stated that he would love to increase the number of students to put together multiple teams that would allow athletes and partners to play unified throughout the year and ultimately throughout their high school tenure.
"I am happy to be a part of this and am glad to see Unified Sports being promoted and encourage through schools and the ASAA," said Dick. "I look forward to seeing Unified Sports build in Southern Alberta in the future."
In partnership with the Alberta Schools' Athletic Association (ASAA), Unified Sports continues to grow and spread the message of inclusion throughout the province.
For more information on Unified events or if your school is interested in hosting a Unified event, check out our Unified Sports page.