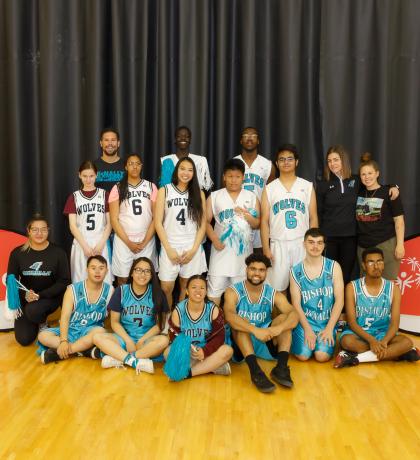 For the third consecutive year, high school students took to the court in the Jack Simpson Gymnasium at the University of Calgary for 3-on-3 Unified basketball.
On May 23, six schools and 164 students came together to compete on teams that comprised of athletes with and without intellectual disabilities.
Students from Lester B. Pearson High School, Lord Beaverbrook High School, Bert Church High School, St. Martin de Porres High School, and Bishop McNally High School represented the twenty teams who displayed sportsmanship, athleticism, and teamwork in a continued effort to promote inclusion through playing unified.
Olympic gold medalist, Mark Tewksbury kicked off the event with a speech that had everyone hyped and on their feet cheering.
Bishop McNally High School has been involved with Unified Sports since its inception in Alberta in 2015 and they have attended all three Unified basketball tournaments in Calgary.
Jill McEwan, Bishop McNally's Unified coach, stated that the school didn't hesitate to get involved and that they couldn't wait to start playing unified to help build a stronger sense of community within the school.
"Our school in general is pretty welcoming and [Unified Sports] just enhances the school culture," said McEwan. "You see students giving each other high fives and hugs in the hallways and the joy it brings to everyone's faces."
Basketball is the only Unified Sport that Bishop McNally currently offers because it was seamless to get partners involved, as the school is known for its basketball prowess.
The team trained hard in preparation for the tournament, running two practices a week, a regiment that started in February.
McEwan said that she really enjoys the tournament every year because it is well organized, the students have a blast, and it is a great experience for her as a teacher, but she believes the best part is the small achievements.
"We have been practicing since February and there is a girl on our team who wasn't that interested in playing, but loved being involved and part of the team," said McEwAn. "She was the team manager and she had never made a basket. During [Unified Basketball] she wanted to play and the kids kept passing her the ball and she made a basket. It brought a tear to my eye. The little achievements often go unnoticed, but it was pretty moving to see."
She also stated that the team definitely plans to attend again next year, as the students have been talking about it non-stop.
Bishop McNally currently has 16 students actively participating in Unified Sports and McEwan expects that number to grow with the potential introduction of bocce at the school.
"We have an adaptive physical education class and athletes buddy up with partners to play different kinds of sports and with the nice weather we have been getting outside to play bocce," said McEwan. "The kids really seem to enjoy it, so we are looking into it."
McEwan believes that Unified Sports is important as it brings sportsmanship to a whole new level and that any school who is looking to get involved should definitely do so.
"I would say that they can't go wrong," said McEwan. "It has only brought positivity to our school. It teaches acceptance to students and ultimately it is a quality that you cannot outgrow."
In partnership with the Alberta Schools' Athletic Association (ASAA), Unified Sports continues to grow and spread the message of inclusion throughout the province.
For more information on Unified events or if your school is interested in hosting a Unified event, check out our Unified Sports page.