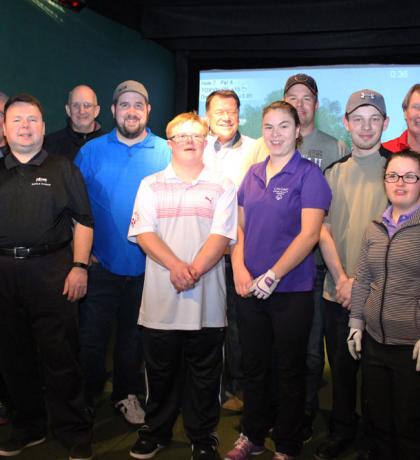 Seven Special Olympics Alberta golf athletes traveled to Sherwood Park on February 24 to meet each other and hone their driving, chipping and putting skills on a virtual golf course, in preparation for the National Games in Nova Scotia in July.
Golf head coach Bill McLaren said the camp was vital because it allowed the athletes to work on their game but to also meet and begin seeing themselves as a group.
"Being from all over the province, the athletes don't really know one another and I think it's important that they form a team before we head down east," McLaren said.
Athletes Emma Bittorf, Allie Price, Greg Demchuk, Joshua Engel, Toryn Holden and Paul Odridge all participated in the camp, held at the Golf Den Lounge & Eatery, a virtual golf operation. Owner Les Yochim said he offered his facility at a reduced rate because he supports the aims of Special Olympics. "We just like doing good things for the community and this is a very good cause," Yochim said.
As part of the team-building work, the athletes stayed at the same hotel in Sherwood Park and participated in social activities, including watching an Oil Kings hockey game in a private box courtesy of a generous donation from Scotiabank.
The next training camp for the golf team will take place at University of Alberta campus with the full Team Alberta members on June 1 to 3.
Check out a recap video of Team Alberta Golf's training camp