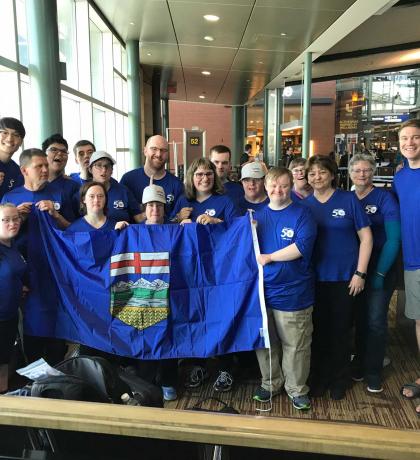 The lanes in P.E.I. were bustling with action with bowlers from across the country. 
For Team Alberta bowlers, they set the lanes on fire with bowlers hitting turkeys, personal bests and even a five-bagger (five strikes in a row) from 10-pin bowler James Starewski from Calgary during the 2018 Special Olympics Canada Bowling Championships. 
As soon as Team Alberta touched down on May 14 into Charlottetown, P.E.I., Team Alberta was swept up in a whirlwind of events from opening ceremonies, to practice time and straight to competition. For P.E.I. to be able to host over 300 athletes across Canada, 5-pin bowlers competed in the lanes of Murphy's Community Centre Bowling Lanes in Charlottetown, while 10-pin bowlers competed in the Tyne Valley Bowing Centre in Tyne Valley and Credit Union Place in Summerside. 
Team Alberta's bowlers battled hard during competitions from May 16 to 19 and came home with 13 gold, 13 silver and 14 bronze in 5-pin bowling team and individual events and 10-pin bowling events: doubles, team, single, and all-event.
You can check out our our full results. 
Our 10-pin ladies team which comprised of Esther Auger, Lauren Bowyer, Carissa Burch and Brianne Koeckertiz earned Team Alberta our first gold in the F1 division for team 10-pin event. The ladies continued their bowling domination with doubles taking gold in the F2 and F3 division in the 10-pin doubles event. The men's 10-pin doubles team also struck gold with Zach Frost and Ken Sawicki. 
The 5-pinners had nail biting team and individual events. First time national competitors: Kimorie Crawford, Kristi Gilmet, Celyne Levesque, Carla McGlone, and Josh Shyiak, all from Strathcona County secured gold in division D 5-pin team event by 3.5 points against Team New Brunswick. On the same lanes, 5-pin team from Calgary with husband and wife duo Jeff and Lori Tilley and teammates: Fern Bremault, Ethel Burns and Leslie Flaterud battled against Team Ontario and took home bronze. 
Even with a packed competition schedule, Team Alberta managed to enjoy all the P.E.I. hospitality and Special Olympics Healthy Athletes opportunities. Team Alberts got creative with East Coast Art Party painting their favourite sport-bowling, checked out downtown Charlottetown, took part in physical fitness screening at the Healthy Athlete station and even made it to P.E.I.'s famous, Confederation Bridge. 
Team Alberta thanks the amazing Bowling Championship games organizing committee, volunteers, health practitioners and host province, P.E.I.! Everyone showed the Team Alberta their East Coast hospitality. 
For more photos and videos, be sure you check out more photos on Flickr. 
Stay tuned for Team Canada announcements for 10-pin bowing athletes and be sure you cheer on the rest of Team Alberta's athletes competing at the 2018 Special Olympics Canada Summer Games in Antigonish, Nova Scotia from July 31 to August 4.