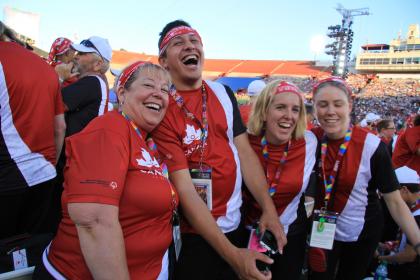 In 2017, volunteering comes in many forms and is as diverse as Canada itself. This year we'll be inducting 5 more volunteers who will be hitting milestones of volunteering 20 and 25 years.

Without our over 1,300 volunteers in over 140 Alberta communities we would not have the sport programs available to over 3,000 athletes.
Volunteer efforts create positive impact in communities across Canada. – National Volunteer Week 2017. 
Kelly Zackodnick, volunteer coach at Special Olympics Alberta-Calgary
"I wanted to give something back to community. I think I challenge the athletes and that helps them realise themselves all the amazing things they are capable of achieving from small to large,"
Special Olympics Alberta recognizes the amazing commitment and hard work of volunteers throughout the year and we hope to put a spotlight on our volunteers throughout April leading up to Canada's National Volunteer Week, April 23 to 29 this year. Be sure you check out a few of our featured volunteers in our Stories Page. 
We want you to get to know the incredible people that help us spread the movement and joy of Special Olympics.
Also, each community will be celebrating their own volunteer appreciation events. You can find these events on our Events Page.