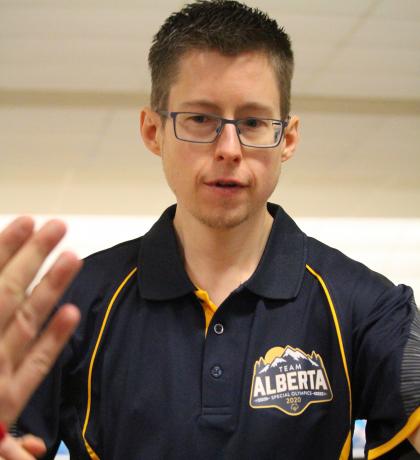 He takes a breath, checks his stance, and blocks out the sound, as he steps up to the lane.
It is the Special Olympics Canada Winter Games 2020 and the alley is bustling here at Nationals as Jon Gurr readies himself to bowl another strike.
This is a moment he has been building towards the past six years with Special Olympics and nothing would stop him and the Strike Force from bowling their way to the podium.
Jon's journey is inspiring, it began at eight months old when he was diagnosed with Prader Willi Syndrome (PWS) – a complex genetic condition that affects many parts of the body including an insatiable appetite, which leads to chronic overeating.
His mother, Ally says that Jon was doing very well with his weight at a young age, but after some struggles in high school including losing his teaching aid, Jon began to gain weight.
"Jonathan is about between five feet three inches and five feet four inches," says Ally. "And it probably took about five years, [but] his highest weight was 288 pounds. So yeah, it was getting to the point where his health was definitely going to be affected in a big way."
The family sought help from health professionals at the Children's Hospital in Toronto in 2012, where Jon started on a red, green, and yellow eating plan designed to help people with PWS.
This diet helped Jon lose 40 pounds, and at the same time, Jon's parents had begun research into the Children's Institute of Pittsburgh who specialize in assisting children with special needs and also offer a Care Coordination program designed to provide consultation services for people with PWS.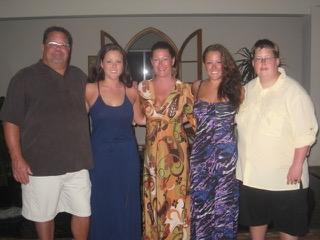 Jon would make the trek for a three month stay at the program in Pittsburgh – a journey he would complete by himself.
"People were amazing, the staff was amazing," says Ally. "My husband, Kevin and I went halfway through his journey, and met with them. And everything was going well, Jonathan was thriving in this environment. And yeah, he did great. And the people in Pittsburgh, like I say, were phenomenal, but they also want to make sure that the parents were on board, and that this was not all in vain."
But it was certainly not in vain.
Jon had lost around 75 pounds, but he was determined to reach his goal weight of 128 lbs. He stuck to his diet and committed to daily exercise, which included everything from working with a personal trainer, walking his dog, and Special Olympics programming.
In June 2014, Jon hit his goal and over the past five and a half years he has maintained that weight.
"There is no cure for people with PWS, but he has been able to – with family and friends as well – keep it off," says Ally. "And I think part of it is, you just have so much more confidence now that he doesn't want to go back to where he was. Yeah. So yeah, it's an incredible journey. And we're more than proud of him because it's his willpower and determination that's on him where he is today."
Jon is humble about his journey and credits his family as being his inspiration.
"My parents always tell me to push myself," says Jon.
Ally mentioned that Jon had surgery to remove excess skin in July of 2018 and it is one of the factors she believes that has helped build his confidence – another being Special Olympics.
"Through Special Olympics, we have met the most incredible people," says Ally. "He's met the most incredible friends. And I must admit that Special Olympics also brought him out of his shell."
Jon started participating in Special Olympics programs around six years ago through the advice of a friend and he hasn't looked back since.
He competes with the Special Olympics Alberta-Camrose affiliate playing almost all the sports they offer including basketball, softball, golf, 5-pin bowling, and the fitness activities like walking club.
One of the things Jon loves about Special Olympics is that it is competitive and a cool experience for the athletes. But his favourite part is watching other athletes be able to compete in the sports they love.
His 5-pin bowling coach Faye St. Onge says that he always brings his A-game to practices and has been a great support system for the team.
"[Jon] has been the team's number one cheerleader and his go to phrase to each of the members of the team was 'throw that sucker,'" says Faye. "When the programs were cancelled during the extreme cold, Jon's response was, we don't bowl outside so let's do this."
Ally echoed Faye's comments adding that Special Olympics has given Jon a voice.
She stated that Jon was born with a paralyzed vocal cord, so his voice is soft, but his confidence in speaking has only grown in the past few years with SOA-Camrose.
"I think through Special Olympics, he's come a long way because he can be very introverted because people would always have to say pardon or excuse me because they didn't understand his voice," says Ally. "And through Special Olympics, he's come a long way with that."
Jon has truly become an inspiration for his fellow athletes and his family.
His cousins travelled to Medicine Hat to watch him compete in basketball at the Provincials 2017.
Ally advocated that she and his cousins were extremely proud of Jon and his teammates.
"Just to see the joy in any reward or any accomplishment that these athletes had was very heartwarming," says Ally.
After Provincials Jon pushed himself to be his best and achieve his goal of earning a spot at Nationals.
He is always working hard during practices at Tabb Lanes in Camrose and his hard work paid off when he and the Strike Force team won gold at Provincials 2019 in Calgary.
Their success earned them a place on Team Alberta, something Jon is very proud of.
"It's a huge honour to be chosen to be on Team Alberta," says Jon.
With Nationals on the horizon Jon continued to focus on his diet by eating healthy and build muscle through daily sports and working out three times a week.
His goals were simple to aim for the middle arrow during every throw, work on his stance, block out the noise, and "possibly win a medal, but if not that's okay too."
Jon took a breath, checked his stance, and blocked out the sound, as he walked up to bowl at Galaxy Lanes in Thunder Bay.
He turned around to his surprise to see his mom and family cheering him on loudly as the Strike Force bowled their way to a bronze medal.
While he took the podium and was given his medal, Jon was proud. But what made him happiest was meeting people from other teams, inspired seeing them play the sport they love.