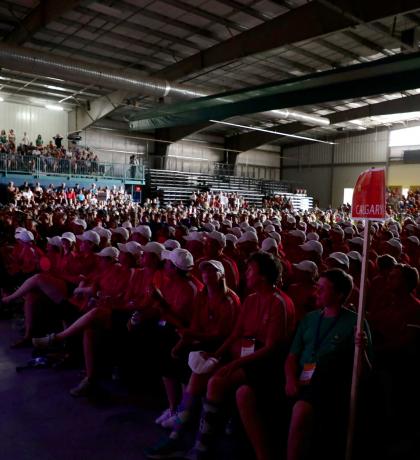 What a weekend!
Medicine "Hot" did not disappoint and went over and above to make sure that teams were welcomed into the city and prepared for the heat wave during the weekend with temperatures at mid 30 degrees from July 7 to 9.
"Thank you Medicine Hat for creating so many memories for all the teams," said Johnny Byrne, president and CEO of Special Olympics Alberta.
"We had a solid Games Organizing Committee and this weekend along with the hundreds of volunteers that pulled it off together with their hard work and fantastic coordination. Even the hot sunny weather couldn't stop the enthusiasm and spirit of our Games volunteers who made sure that our athletes were well hydrated, had shade and options for cooling off for all our outdoor sports. "
"We are incredibly grateful for our games and national partners and government members who put their full support to make the Summer Games a success. This weekend will provide a legacy for all the athletes who got to experience a Games competition for the first time to those who will advance to National Games in Antigonish, Nova Scotia and possibly the World Games in Abu Dhabi."
On the final day of the 2017 Special Olympics Alberta Summer Games, over 1,000 medals were handed out to the 11 summer sports that athletes from across Alberta competed in. Although the memories of the celebration of victory and gracious defeat are all part of the games experience, our athletes took more away from achieving personal bests, lasting friendships and the undisputable knowledge that they have limitless abilities.
Past Games host athlete, Darren Pedersen, from Grande Prairie shared what the weekend meant to him and his teammates.
"This is my first time in Medicine Hat and it's a beautiful city and just to come out to be with my team, my coaches, and being around my fellow athletes is a blast. It's something I always look forward to every time," said Darren Pedersen, Special Olympics Alberta-Grande Prairie soccer player.
"My teammates are the definition of heart and courage, they always try their best. My coaches, what can I say about my coaches? Speaking on behalf of myself and the rest of the team we wouldn't be the athletes we are without our coaches. Our coaches are awesome!"
Special Olympics Alberta would like to thank all the unbelievable support to make the Summer Games possible and to all the phenomenal teams who competed. We hope everyone who was part of the summer games witnessed pure joy!
For more information on the 2017 Special Olympics Alberta Summer Games, check out www.medicinehat2017.ca. For more photos check out our Special Olympics Alberta Flickr Albums, Facebook Albums or Instagram.