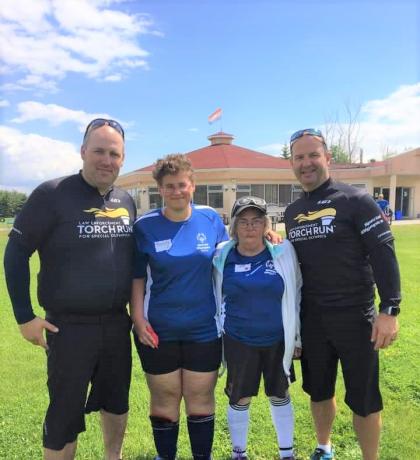 It is funny how one decision can change your life and, for Matt Burton, it was a four-hour volunteer shift with the Alberta Law Enforcement Torch Run (LETR).
Nearly eight years ago, Matt Burton attended a Free our Finest event in Lethbridge, and after meeting some of the local athletes, he was hooked.
"Volunteering with LETR has made such a difference in my life, my family's life, and has opened our eyes and hearts to so many wonderful people," said Matt. "The connections that have been made with athletes and fellow Guardians of the Flame will last a lifetime."
Matt got involved with LETR through his job with Alberta Sheriffs and has already progressed to sitting as current Chair of the Southwest Region.
Over the past year, Matt has helped organize a lot of virtual events for law enforcement members across the province, including their first-ever Virtual Summer Series and PlungeX.
He also participated with an international group of Guardians and athletes in a social media movement called #10aDayTilItsOk.
"The idea behind this is to encourage athletes to stay active and stay positive, while also spreading the message of inclusion," said Matt. "Although our athletes are not able to get together in person at sports events or practices, there is still a need to stay active and connected."
Matt says he has been lucky to connect over Zoom and FaceTime with local athletes to check-in during this time and, for him, the drive to make inclusion a reality for the athletes is his motivation.
"After meeting a local athlete while I was out with my family, I asked my two young boys if they noticed anything different about him," said Matt. "They didn't see an intellectual or physical disability, they saw him for who he was, an athlete and an awesome person. It is breaking down those barriers that drives me to stay involved."
One of his favourite memories is participating in the Final Leg for the Calgary Provincials in 2019. Matt said he was thrilled to high-five athletes as they walked into Opening Ceremonies with the Flame of Hope. The smiles and cheers of the athletes is something that will stay with him forever.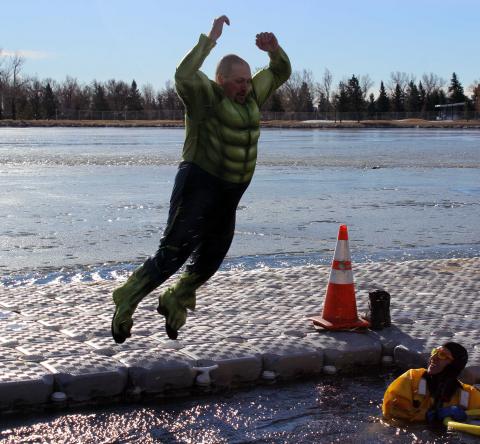 "Special Olympics has been a game-changer for people with intellectual disabilities," said Matt. "Once you have had a chance to meet an athlete and talk with them, it is hard not to fall in love with their outlook and what Special Olympics means to them. In order to keep their programs going and make these opportunities available, we need to support Special Olympics through our efforts with LETR and the general public."
Looking ahead, Matt hopes to represent his region, province, and country at a Final Leg event at a future Special Olympics World Games.
He is excited about the future for LETR here in Alberta and encourages other law enforcement members to get involved.
"What can I say except it has been one of the best things to happen to me during my career in law enforcement," said Matt. "Come out to an event, [and] meet the athletes and officers who are a part of these two great organizations. I guarantee that you will go away from that event with a smile on your face and some awesome new friends."
April 18-24 marks National Volunteer Week, and this year we want to emphasize how important our volunteers are to us by spotlighting them throughout the month. Profiles will be released Tuesdays and Thursdays to recognize people who continue to make an impact in the lives of our athletes.
Visit https://www1.specialolympics.ab.ca/abvolunteer-week/ to see everything we have planned for the month including events, profiles, videos, and a message board where you can share a message with a volunteer who has made an impact in your life.
If you're interested in volunteering, click here to begin your journey with Special Olympics Alberta!