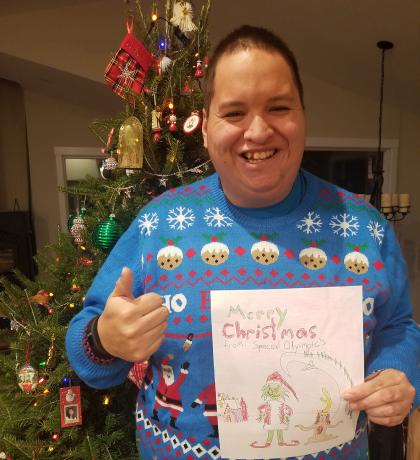 Thank you to everyone who entered their amazing artwork into the annual holiday card contest.
This year's winner was Jaden Good from Special Olympics Alberta-West Central and his drawing of the Grinch and Max, which will be featured on the 2019 SOA digital holiday card.
Jaden answered some questions about his artwork, the holidays, and his time with Special Olympics. Congratulations, Jaden!
When did you start with Special Olympics and why did you decide to be part of Special Olympics?
J: I started when I was 11-years-old because my brothers and sisters were joining Special Olympics too.
Which is your favourite sport? Why?
J: Soccer is my favourite sport. I enjoy moving and playing defense – I made good friends there and have fun being a part of a team.
Your artwork is amazing. What inspired you to draw the Grinch?
J: I thought everyone would enjoy the Grinch and he is a classic. He is also my favourite Christmas character.
What does it mean to you to have your artwork featured on the Special Olympics Alberta holiday card?
J: Feels good to be recognized as an artist. [It's] my first time being highlighted in a news article.
What would you say to another athlete who was interested in joining Special Olympics?
J: I would say it's good exercise, good way to be active and stay healthy.
What is your favourite part of the holidays?
J: My favourite part is the decorating and the Christmas music.
What is your favourite carol?
J: My favourite carol is Rockin' Around the Christmas Tree by Brenda Lee.
What is your favourite holiday movie?
J: My favourite movie is Deck the Halls.
Do you have a message for everyone for the holidays?
J: Have a safe and Merry Christmas and New Years, and stay safe on the roads. And enjoy lots of turkey!