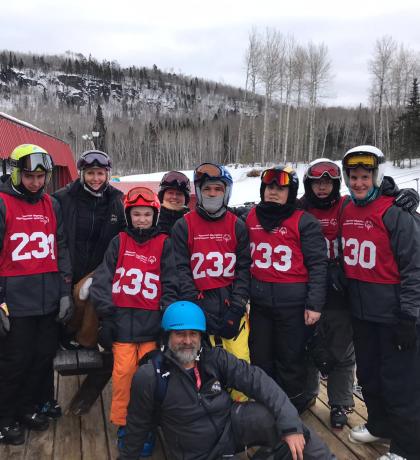 Profile by Special Olympics Canada
Alberta's Martin McSween was introduced to Special Olympics 30 years ago while working at a group home for individuals with intellectual disabilities in Drumheller.
A number of the home's residents participated in Special Olympics track and field, so McSween offered to drive them to practice.
A former athlete and certified coach, McSween was asked to help on the field that day.
"I was hooked," McSween recalled, adding that he feels the same way three decades later. "I had coached generic athletes and it gets heady and can get pretty ugly … and people forget about the sport."
He was drawn to Special Olympics athletes' enthusiasm, their genuine love of sport and, of course, the athlete dances!
He signed up as an athletics coach, then got into bowling and finally alpine skiing.
By 1997 he started the Special Olympics Drumheller alpine ski racing program, while coaching generic alpine athletes at the same time.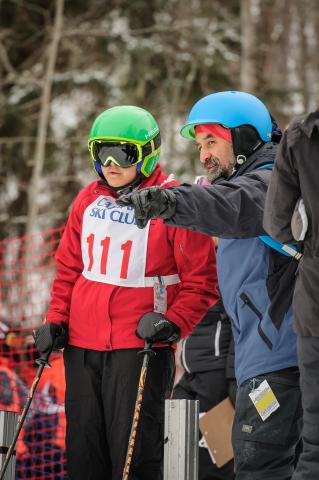 He loved how Special Olympics challenged him in new ways.
"I love the challenge of taking a generic training drill and adapting it to this person who is processing in a different way – that's what really hooked me," he said.
He learned that if an athlete doesn't understand the drill, "it's probably my delivery," so he'd revaluate and adapt to suit the individual's needs.
For example, he had an alpine skier who couldn't move from snow plow to parallel for years. Confident in the athlete's ability, he safely lead him over a patch of ice on a slope and watched as the athlete quickly switched to parallel.
More recently, one of his skiers struggled with balance, so he focused on dryland training that strengthened that skillset.
That athlete later qualified for the recent Special Olympics Canada Winter Games Thunder Bay 2020 and brought home two bronze medals and one silver.
"That was pretty cool," said McSween, who also served as Special Olympics Team Alberta's head alpine ski coach in Thunder Bay February 25 to 29.
Over the past 30 years, McSween has coached at regional, national and international competitions, including the Special Olympics World Winter Games in Boise, Idaho in 2009 and Pyeongchang, South Korea in 2013.
While travelling as a coach is an incredible opportunity, the highlight for McSween is meeting fellow coaches and athletes from across the country.
One of his fondest memories is a particularly treacherous (weather-wise) Special Olympics Canada Winter Games on Prince Edward Island in 2005.
All alpine ski teams were snowed in at their residence and couldn't make it to the Closing Ceremony.
"We were all together in our accommodation and we were able to actually get to know each other - it felt like we were all one big contingent," said McSween. "That was a special moment for me, because we really got to know the other coaches, we got to know the other athletes, the athletes buddied up and that created lifelong connections."
Volunteering for Special Olympics is a "no brainer" for McSween.
"I volunteer for the love of sport," he said. "Special Olympics just puts the fun back into sport. It's competitive, it's serious, but it's also hilarious in a fun, meaningful way,"
"And when you have the opportunity to really make a difference in an athlete's life, that's a win-win."