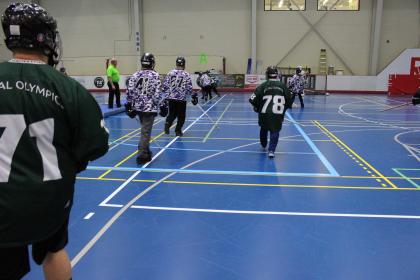 Not one but two separate sports related to Special Olympics descended upon the Spruce Grove Tri Leisure Centre on Saturday, March 24. But despite their differences, the two events centred around one main idea — team building.
 
On the south-side ice, 12 skaters from Alberta took to the ice to skate short programs and display their prowess and artistic flair, to qualify for the 2019 Special Olympics Alberta Winter Games in Calgary and then the future nationals, in 2019, in Thunder Bay. 
"It's the first time for them to show what they've been working on all year," said the team's coach, Barb Prystai. "The majority of them have improved from where they were last year. It's really starting to come together."
Following the short skate programs the skaters were awarded medals in eight different categories. Many a tear was shed and hug shared.
 
On the opposite side of the facility, an epic battle of floor hockey skills was waged all day with 12 teams playing in a tournament in four different divisions.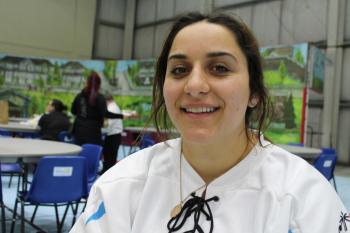 Twenty-one-year-old player Eileen Mooney was playing her first games after joining hockey with Special Olympics — she also plays soccer and will be playing on the men's team at Nationals this summer. Mooney said her team had worked well together and had excelled at passing. "I like the environment, the coaches, the sport, too," she said. "I like the physical activity. We were passing well, communicating, giving each other advice."
 
Eight-year-old player Cameron Jenkins, from the Spruce Grove Heat, said he was concentrating on his passing during the games. "I like passing with my teammates because I'm so good at passing," he said.
 
Thirty-year-old player Jack Feth said he was having a blast at the tournament. "Just coming out and getting exercise and having fun is great," he said. "It's a good way to escape your outside world."
 
Coach Louis Babin of the West Central Lightning took one of his teams to a medal. "It's just fantastic working with these athletes, and they are athletes," he said. "They just give so much, they're always trying, they just have different abilities. It's just great to see them come together as a team."
RESULTS
Star Skate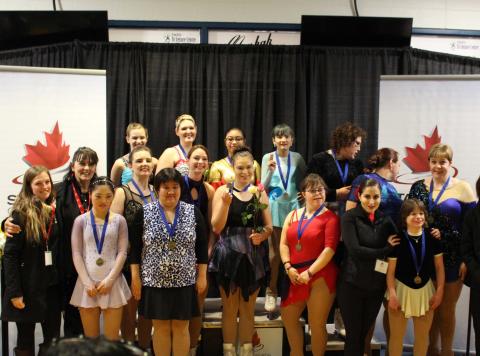 Level 1:
Gold: Moriah VantLand, Lethbridge SC
Silver: Ashley Chow, Calalta FSC
Level 2:
Gold: Tamara Lambert, Calalta FSC
Silver: Emma Bittorf, Strathmore FSC
Bronze: Jacqueline Coutts, Calalta FSC
Level 3:
Gold: Meg Ohsada, Canmore FSC
Level 4: 
Gold: Amber Harriman, Lake Bonavista FSC
Silver: Eleanor Saubak, Nanton SC
Level 5:
Gold: Kristina Hansen, Huntington Hills SC
Level 6:
Gold: Kennedy Zaytsoff, Nanton SC
Masters Level 1/2:
Gold: Alana Gersky, Royal Glenora Club
Silver: Carly McAvoy, Royal Glenora Club
Bronze: Nadia Abbadi, Calalta FSC
Masters Level 3/4:
Gold: Erin LeBlanc, Calalta FSC
Floor Hockey
A Division:
Gold: West Central Lightning
Silver: Spruce Grove Ringette Storm 
 
B Division: 
Gold: Wetaskiwin Warriors 
Silver: Edmonton Bulldogs
 
C Division
A Final: 
Gold: Strathcona Thunder 
Silver: Wetaskiwin Wildcats
B Final
Gold: Edmonton Cougars
Silver: West Central Tornadoes
 
D Division
A Final
Gold: Vegreville Polekats
Silver: Strathcona Thunder
B Final
Gold: West Central Heat 
Silver: Family and Friends of West Central