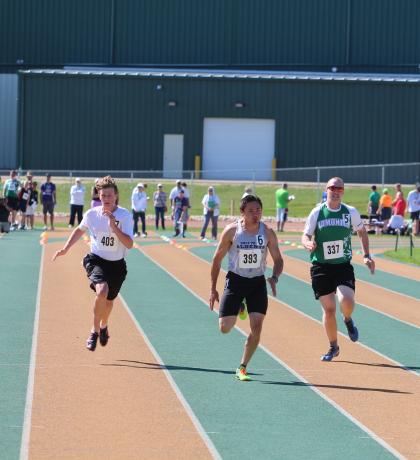 The weather was beautiful and the atmosphere was electric as Special Olympics athletes gathered in Edmonton for a track and field meet.
110 athletes and 70 volunteers soaked up the sun at the University of Alberta's Foote Field on June 16 for the biennial Special Olympics Alberta-Edmonton Track and Field Meet.
Athletes and coaches from Calgary, Edmonton, Red Deer, Spruce Grove, Stony Plain, St. Albert, Strathcona County, and Vegreville competed in 3000m, 1500m, 800m, 400m, 200m, 100m, 50m, standing and running long jump, as well as shot put.
SOA–Edmonton general manger, Celina Comeau organized the event and was pleased with the turnout.
"It was awesome," said Comeau. "The event itself really exceeded my expectations! This is mainly due to our volunteers and officials."
Everyone was smiling, trying their best, and displaying sportsmanship through high-fives and hugs, which was a rewarding experience for Comeau who stated that planning an event of this size took around six months.
"There are a lot of moving elements to events, and having it being a track meet adds more technical specific requirements," said Comeau. "We owe a lot to Stephanie Hazelwood our Meet Manger who has helped us along the way and to Vern from Ellis Timing."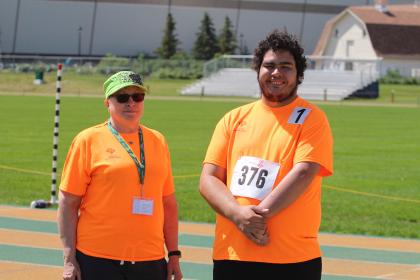 Our athletes pushed themselves to throw, run, and jump to the best of their ability, which ultimately allowed some of them to earn personal bests.
Coach Fran Serna and athlete Eli Bernard of SOA–Vegreville attended the event and advocated that the atmosphere and the community is what keeps them coming back.
"Just the camaraderie with the other athletes," said Serna. "We have met the guys from Strathcona, the guys from St. Albert, you know you kind of see some of the same athletes so you make those connections with them and I get to make connections with coaches."
Bernard competed in the 100m, 200m, standing long jump, and shot put, displaying his versatility as an athlete.
Outside of the thrill of competition, Bernard claimed that his favourite part of track meets is traveling and meeting new people.
As a Team Alberta athlete, Bernard is using this opportunity to continue to train for Nationals this month.
"We train once a week in Vegreville… so this is really good for Eli because he is training now on a rubberized track and he's getting the feel of that," said Serna.
Bernard recommends that athletes who are looking to get involved should sign up immediately and do their best in hopes to earn a spot on Team Alberta like himself.
"I would say come on out and basically keep doing what you are doing," said Bernard. "If you are in any sport keep doing what you are doing and hopefully you can make it to the big leagues possibly, like Team Alberta."
Beyond Nationals, Bernard is also excited to resume preparations for the upcoming 2019 Special Olympics Alberta Winter Games in Calgary next February.
One of his passions is hockey and like his heroes Wayne Gretzky, Bobby Orr, and Mike Modano, Bernard is looking to snipe some big goals in Calgary.
He competes on his local floor hockey squad and is certain his improvements in athletics will translate to his hockey game.
Overall, the meet was a massive success with many amazing moments and personal bests from the athletes.
"Thank you to all those who came to support," said Comeau.
Special Olympics would like to thank the incredible volunteers and supporters who made the Track Meet a success.
In a few short weeks Team Alberta athletes will make the trip to Antigonish, Nova Scotia to compete at the 2018 Special Olympics Canada Summer Games. Be sure to check out the Team Alberta site for updates and follow us on Facebook, Twitter, and Instagram to find out how you can cheer them on as they go for gold.
The fun never ends as our athletes gear up for the 2019 Special Olympics Alberta Winter Games. Make sure to stay tuned for all the latest and greatest news with Provincials right around the corner! Follow the fan page and share a message to support our athletes and keep up to date on all thing Winter Games!