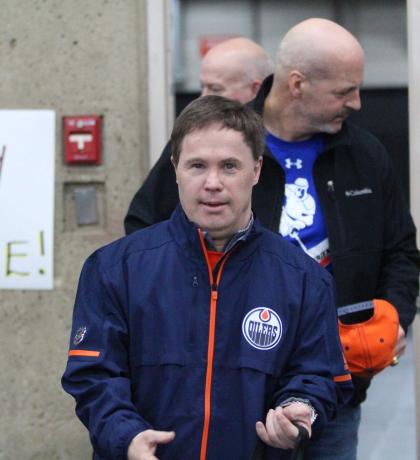 With Joey Moss singing the anthem to kick off the afternoon, the 7th Annual Edmonton Floor Hockey tournament couldn't be more epic.
Over 300 athletes from 10 Special Olympics affiliates competed in a full day of floor hockey. Not only did athletes from northern and central Alberta go against the best of their fellow athletes in their division, this year's tournament also served as a qualifying event for the 2019 Special Olympics Alberta Winter Games in Calgary.
The 18 teams from Edmonton, Strathcona County (Sherwood Park, Fort Saskatchewan), Red Deer, Airdrie, St. Albert, West Central (Spruce Grove and Stony Plain), Olds, Wetaskiwin, Grande Prairie and Vegreville competed in four divisions in a full day of floor hockey on Saturday, November 25 at the Northlands Edmonton Expo Centre.
"The competition is just unbelievable. Our athletes are truly elite athletes," said Celina Comeau, general manager of Special Olympics Alberta-Edmonton.
Budding floor hockey athlete, Kyla Henwood, just joined Special Olympics in Wetaskiwin a year ago and showed her quick feet and sticks skills after scoring two goals against Edmonton's team, Cougars.
"(The Edmonton Floor Hockey Tournament) is fun. It's my first time playing with the A team so it's challenging and I'm working on being pushed around," said Henwood.
The 17 year old is not only busy with the Wetaskiwin Warriors floor hockey team, but she is also active in soccer and basketball with Special Olympics and volleyball at school. Get to know our Special Olympics athlete in less than a minute.
Incredible supporters and fans also joined in the fun with Oilers alumni members playing against Special Olympics athletes in a half hour game at 12:30 p.m. and a sponsor game at 3 p.m. that included CBC Edmonton AM hosts Mark Connolly and Garrette McGowan.
Special Olympics Alberta would like to thank the amazing supporters and volunteers who made this event successful like Northlands Edmonton Expo Centre and the Edmonton Oilers Foundation. For more photos on the tournament check out our Flickr Edmonton Floor Hockey Tournament Album.