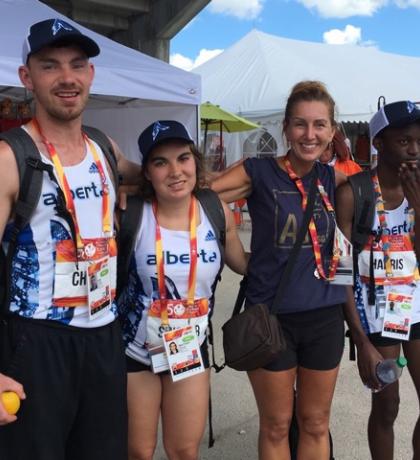 It was an action packed 17 days in Winnipeg with the city hosting the 2017 Canada Summer Games. The Summer Games hit its milestone of 50 years and was the country largest multi-sport event for young athletes.
From the 4,000 athletes from all the provinces and territories across Canada, Team Alberta came in 4th in medal standing with an impressive 97 medals.

Team Alberta Medal Results
Gold: 26
Silver: 38
Bronze: 33
Team Alberta completed in all 16 sports and was comprised of 438 participants: 344 athletes, 52 coaches, 23 managers and support staff, 19 mission staff. Within Team Alberta. 9 members represented Special Olympics Alberta: 3 athletics athletes, 4 swimming athletes and 2 coaches.
Check out how our athletes performed:
Athletics
Events: 100 m, 200 m
Location: University of Manitoba Stadium
Coach: Marie Powell, Calgary
Luc Harris, Calgary
Iain Cheyne, Calgary
Brittany Sinclair, St. Albert
100m 13:40 Final Standing, 11th place
200m 27:52 Final Standing, 12th Place
100m 12:82, 8th Place
200m 26:43, 9th Place
100m: Disqualified (17:70)
200m: 38.74, 14th place
Swimming
Events: 50 m Backstroke, Breaststroke, Freestyle, 100 m Backstroke and Freestyle
Location: Pan Am Pool
Coach: Wendy Nelson, Coaldale
Naomi Leam, Lethbridge
Wesley Wilks, Didsbury
Stephen McMurter, Carstairs
Sarah Schmick, Carstairs
50m Free: 42.47, 11th Place
100m Free: 1:40.47, 8th Place
100m Back: DSQ
50m Breast: DSQ
50m Free: Silver, 30.13
100m Free: Silver, 1:06.47
50m Back: Bronze, 37.31
100m Back: 5th Place, 1:23.35
50m Breast: Silver, 38.01
50m Free: 5th place, 32.47
100m Free: 6th place, 1:14.92
50m backstroke: 7th place, 40.23
100m backstroke: 7th place, 1:30.60
50m breast: 7th place, 46.77
50m Free: 40.46, 8th Place
100m Free: 1:29.88, 6th Place
50m Back: 54.09, 10th Place
50m Breast: 58.59, 10th Place
"I was able to enjoy my sport in swimming. Swimming was very intense there. There was a lot of competition. There was a lot of older guys that I had to face, but it was a lot of fun. During my first race when I waved to the crowd, some girl was screaming for me like I was a rock star"- Wesley Wilks, Team Alberta swimmer
The athletes who competed in the 2017 Canada Summer Games will leave a lasting legacy of new and enhanced sport facilities, volunteer and leadership development that will benefit athletes and the broader community for years to come. For more information on the 2017 Canada Summer Games, go to www.canadagames.ca.
#JCG2017 #GOTeamAB