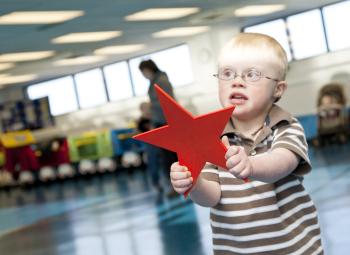 Special Olympics Alberta is excited to continue to expand our Young Athletes Programs across the province. We will supply you with many free resources when starting a program including program guides, equipment kits and training for all program leaders. 
We will work with you step by step to get a program started in your area.
If you are interested in starting a program please contact Johnny Byrne: jbyrne@specialolympics.ab.ca or 1-800-444-2883 - Ext. 1003.
The following are free resources that we provide when starting a program:
Active Start Guide
Geared towards individuals ages 2 - 6 with a focus on developing play through movement skills
Active Start @ Home Guide
A guide which parents can utilize to continue the program in their own home
Young Athletes Nutrition Guide
This compliments both the Active Start and FUNdamentals guides and provides healthy recipes for athletes
Young Athletes equipment kits include:
Large and small hoops
Pylons
Soft sticky balls
Rods
Bean bags
Numbered place mats
Small paddles 
Plastic bricks
Foam balance beams
Scarves
Foam baseballs
Parachutes
Star shaped place mats
Baseball tees