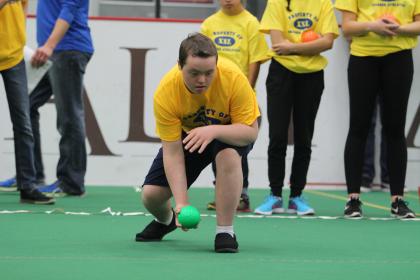 EDMONTON, AB, March 29, 2018- A team of four students, with and without intellectual disabilities, will proudly represent Alberta and compete in bocce at an inclusive sport event, the 2018 Special Olympics Ontario School Championships from May 29 to 31 in Peterborough, ON. 
Special Olympics Unified Sports is dedicated to promoting social inclusion through shared sports training and competition experiences, joining people with and without intellectual disabilities on the same team. It was inspired by a simple principle: training together and playing together is a quick path to friendship and understanding. Since September 2015, Unified Sports was launched in high schools in Alberta through a partnership between Special Olympics Alberta and the Alberta Schools' Athletic Association (ASAA).
"Unified Sports has been around for almost 30 years with Special Olympics and we've always had Unified Sports in certain ways in Alberta," said Johnny Byrne, President and CEO of Special Olympics Alberta. 
"The partnership with the Alberta Schools' Athletic Association was a targeted approach to get the program embedded in schools and show the opportunities available for students with and without intellectual disabilities to be able to play together. In almost three years, the number of students taking part in Unified Sports has almost tripled and has culminated with the first Albertan school to compete at a Unified School Championship."
"The Special Olympics Alberta/ASAA partnership is the first of its kind in Canada and the ASAA has been very excited to see Unified Sports take off in Alberta high schools," said John Paton, ASAA Executive Director. 
"With the support of Johnny Byrne, CEO of Special Olympics Alberta and the excellent work of Shanna Kurylo, the exponential growth in participation in less than three years has set the tone for a very positive, and continued relationship that allows students with and without intellectual disabilities to play together and share both team and school experiences. Congratulations to Bert Church for their outstanding leadership and support of Unified Sports."
Young people with disabilities don't often get a chance to play on their school sports teams, but more and more schools are adopting the Unified Sports approach. Teams are made up of people of similar age and ability, which makes practices more fun and games more challenging and exciting for all. 
From the start, Bert Church High School understood the power of the program taking part in three of the Unified Sports offered in Alberta: basketball, bean bag toss and bocce. 
Representing Bert Church High School Chargers are students: Kendra Van Dewark, Noah Van Dewark, Ami Schaan and Emma Rockwell, accompanied by Ian Ferguson, Physical Education and Career and Technology teacher and Cynthia Dahl, learning support teacher. 
The 2018 Special Olympics Ontario School Championships will have competitions from May 29 to 31 in five sports: basketball, bocce, floor hockey, soccer, and track and field. Students from Alberta, Manitoba, Ontario, and the United States are expected to attend. Last year, 950 athletes from 85 schools competed in the School Championships. For more information about the 2018 Special Olympics Ontario School Championship, go to sooschoolchampionships2018.ca.  
ABOUT SPECIAL OLYMPICS ALBERTA 
Special Olympics Alberta is dedicated to enriching the lives of Albertans with intellectual disabilities through the transformative power and joy of sport. Our vision is that sport will open hearts and minds towards people with intellectual disabilities and create inclusive communities. 
Special Olympics Alberta's programs cater to all ages and a wide range of abilities to over 3,300 athletes in more than 140 communities. We provide world class sports programs that are run daily by over 1,300 volunteers. For more information on Special Olympics Alberta, visit, www.specialolympics.ca/alberta and follow us on Facebook, Twitter, Instagram, Flickr and YouTube. #ChoosetoInclude
ABOUT ALBERTA SCHOOLS' ATHLETIC ASSOCIATION
The Alberta Schools' Athletic Association is a voluntary, non-profit organization that has been established to coordinate a program of worthwhile athletic activities for the young people of Alberta in an educational setting. The membership, currently 380 high schools, ultimately determines the policy of the Association through representation on the provincial Board of Governors.
-30-
Media Contact
Special Olympics Alberta
Katherine Dalusong
Direct: 780.638.4620
Mobile: 780.975.2795
kdalusong@specialolympics.ab.ca