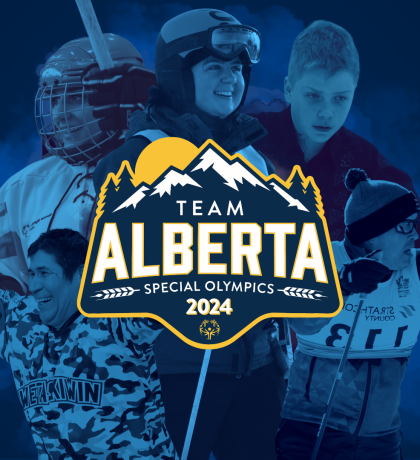 Team Alberta to Compete at the 2024 Special Olympics Canada Winter Games in Calgary.
Team Alberta is back and ready to represent the province at the 2024 Special Olympics Canada Winter Games in Calgary from February 27 to March 2, 2024.
The team, consisting of 96 athletes, 46 coaches and mission staff, will compete in eight winter sports: 5-pin bowling, alpine skiing, cross-country skiing, curling, figure skating, floor hockey, snowshoeing, and speed skating.
"We can't wait to unite this amazing team enroute to the Special Olympics Canada Winter Games 2024. We will be building a collective of confident individuals and sport teams ready to perform personal bests and represent Alberta with all their hearts," says Jodi Flanagan, Chef de Mission for Team Alberta 2024. "Everyone (athletes, coaches, training coaches, mission staff, leadership, staff) all have something to contribute to the bigger picture of this team and we will value each of those contributions. Of course, we are very excited to showcase our talents on home turf! How great will it be to feel the energy of Albertans sharing in our vibe?"
For more information and a full Team Alberta 2024 roster, visit https://www.specialolympics.ca/2024-team-alberta/team-alberta-2024-roster. More information on the 2024 Special Olympics Canada Winter Games can be found at https://shorturl.at/bwVY8.
Special Olympics Alberta
Special Olympics Alberta is dedicated to enriching the lives of Albertans with intellectual disabilities through the transformative power and joy of sport. Our vision is that sport will open hearts and minds towards people with intellectual disabilities and create inclusive communities. Special Olympics Alberta's programs cater to all ages and a wide range of abilities to over 3,300 athletes in 140 communities. We provide world class sports programs that are run daily by over 950 volunteers and coaches. For more information on Special Olympics Alberta, visit, www.specialolympics.ca/alberta and follow us on Facebook, Instagram, Flickr, and YouTube.