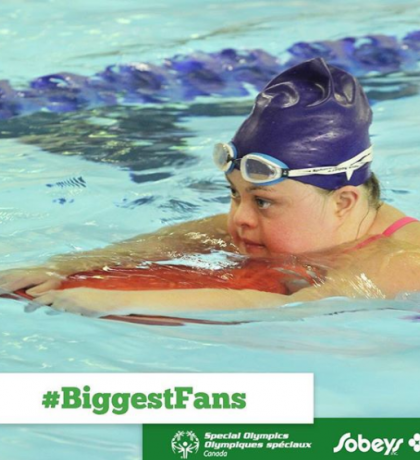 Sobeys stores will come together from coast to coast to support Special Olympics in Canada through its first national in-store check-stand fundraising campaign. Customers can make $2 donation at their local Sobeys, Safeway, Foodland, IGA, Urban Fresh and Thrifty Foods. The ultimate goal is to raise $700,000 in 10 days.
Since 2016, Sobeys has been a proud national partner of Special Olympics Canada. Their mission for the partnership is to empower Special Olympics athletes and families to live healthier lives.
To kick off the campaign, select stores across Canada will have Special Olympics athletes participating in the second annual Fall Food Fair on September 15.
On September 15 Sobeys will match all customer donations up to $150,000. The theme is "Eating like an Athlete" with a focus on healthy meal and snack solution for on the go athletes and families.
In Alberta, 14 stores will have local Special Olympics Alberta athletes and coaches help hand out healthy food samples and are ready to show off their medals and talk about their amazing accomplishments from 11 a.m. to 4 p.m.:
IGA Banff: 318 Marten Street (BOX 1450) Banff, AB

IGA Lakeview: 6449 Crowchild Trail S.W. Calgary, AB

Safeway Southcentre: 11011 Bonaventure Drive SE Calgary, AB

Safeway South Trail Crossing: #100, 4915 - 130 Avenue SE Calgary, AB

Safeway Aspen: 375 Aspen Glen Landing SW Calgary, AB

Sobeys Cranston: 3000, 356 Cranston Rd S.E. Calgary, AB

Sobeys Nolan Hill: #700 8 Nolan Hill BV N.W Calgary, AB

Sobeys Mahogany: #1200, 7 Mahogany Plaza SE Calgary, AB

Safeway Callingwood: 600, 6655 - 178 Street NW Edmonton, AB

Safeway Oliver: 11410 - 104 Avenue NW Edmonton, AB

Sobeys Newcastle: 16943-127 Street NW Edmonton, AB

Sobeys Walker: 5309 Ellerslie Rd SW Edmonton, AB

Sobeys Namao: 9611 - 167 Avenue Edmonton, AB

Safeway Northgate Grande Prairie: 9925 - 114 Avenue Grande Prairie, AB
During the 10 day campaign, don't be surprised to see local athletes stop by to thank and high five staff in one of the 153 Sobeys store locations. Join our Eat Like an Athlete Photo Challenge to help raise awareness AND be entered into a draw for the chance to win a $50 to $100 Sobeys gift card! Click here for details.
Special OLYMPICS TEAM PHOTO CHALLENGE
(Alberta Only)
Want to win a $200 Sobeys gift card to fuel your team? Then participate in the Special Olympics Team Photo Challenge!
HOW TO PARTICIPATE
Sobeys loves visits from local Special Olympics teams! From Sept. 13 to 23, rally your Special Olympics teammates to visit your nearest Sobeys, Safeway, IGA, Thrifty Foods, Urban Fresh, or Foodland to thank store employees for their support during the fundraising campaign.
Post a picture of your team during the store visit to your publicly visible Instagram or Twitter account with #ChallengeAcceptedSOC, @SpecialOAlberta and @Sobeys.
Double chances to enter the nationwide Special Olympics Canada contest for $100 Sobeys gift card and tag @SpecialOCanada. Find out more www.specialolympics.ca/50/sobeys
Each team will be entered into the draw.
One entry per team.

Follow and get social:
#ChallengeAcceptedSOC
@SpecialOCAnada
@SobeysSpecialOlympics
@Sobeys
@SafewayCanada