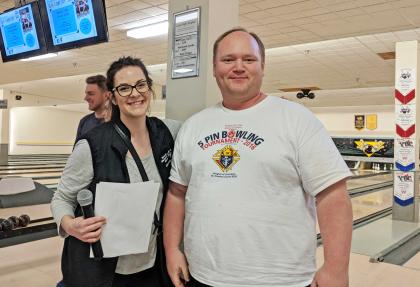 Edmonton Hosts Over 120 Bowlers at Qualifying Event
Since November, athletes across Alberta have been taking part in qualifying events and tournaments to earn a spot to compete in the 2019 Special Olympics Alberta Winter Games which will occur February 8 to 10, 2019. 

Athletes will be qualifying in: 
alpine skiing
cross country skiing
curling
figure skating
floor hockey
snowshoeing
speed skating
5-pin bowling *new winter sport 

On February 25, over 120 Edmonton bowlers competed in a 5-pin bowling qualifier at Bonnie Doon Bowling Lanes. Fast paced bowling of three games comprised of a day of hitting strikes, spares and personal bests. The day was a success with the help of 35 volunteers and multiple parent helpers and fans. Check out photos from the event. 
 
Be sure you follow, cheer and support your local athletes on their road to 2019 Special Olympics Alberta Winter Games in Calgary.
Check out the website: www.specialolympics.ca/2019-alberta-winter-games 
The official launch of the Games will occur March 7 at Canada Sport Hall Fame.
Find out more details on the  2019 Winter Games Launch.
For upcoming qualifiers, check our our events page. #Calgary2019