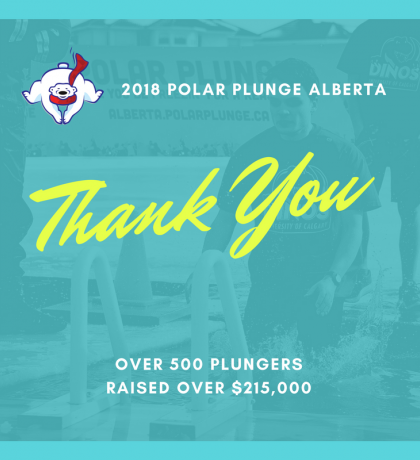 EDMONTON, AB, May 3, 2018- Over 500 plungers dove into freezing waters this winter in five cities to be "Freezin' for a Reason" at Polar Plunge Alberta.
Polar Plunge challenges people to bravely jump into frigid waters where plungers raise awareness and funds for over 3,300 Special Olympics Alberta athletes across the province. The event is presented by the Law Enforcement Torch Run for Special Olympics Alberta (LETR), one of the largest grassroots fundraisers and awareness vehicles for Special Olympics.
This year, plungers and sponsors blew the fundraising out of the water by raising over $215,000.
"We're incredibly proud and grateful for all the plungers who took on the Polar Plunge surpassing last year's fundraising of over $167, 000," said Johnny Byrne, Special Olympics Alberta president and CEO.
"This achievement was only possible because of dedicated plungers and the support of Mr. Lube."
Mr. Lube first jumped into supporting Polar Plunge as an incentive sponsor by providing towels and Under Armour jackets for top fundraisers. In February, Mr. Lube doubled their support by collecting donations from all Mr. Lube locations during the month across Alberta raising $15,000 towards the event. In total, Mr. Lube provided $30,000 towards Polar Plunge Alberta's success.
"We would like to express our sincere thanks to Mr. Lube for their on-going support of Special Olympics athletes across Alberta. Their generous financial contributions coupled with their enthusiasm to better the lives of people with intellectual disabilities is an example for all," said Paul Manuel, LETRC provincial director.
Across Alberta, 21 law enforcement agencies plunged into glory from January to March in Lethbridge, Edmonton, Red Deer, Calgary and Medicine Hat. From law enforcement chiefs, Calgary Stampeder, Olympic medalist, government members and media personalities, Polar Plunge inspired the province to brave winter's chill and learn more about Special Olympics athletes.
Special Olympics Alberta would like to thank all the volunteers in all the Polar Plunge cities and venues: Henderson Lake Park, Lake Summerside, Arbour Lake, Bower-Kin Community Center, Arbour Lake and Family Leisure Centre. For more details and photos on Polar Plunge Alberta, go to www.alberta.polarplunge.ca or check out photos and videos from each of the events on Facebook /plungealberta or Twitter @SpecialOAlberta @Alberta_LETR #PolarPlungeAB
A special thanks to 2018 Polar Plunge Alberta top fundraisers:
Top Individual: Gordon Szol from Calgary
Top Law Enforcement Member: Chief Keith Blake with the Tsuut'ina Nation Police
Top Special Olympics Athlete: Leonka Kaluha from Calgary
Top Law Enforcement Team: Calgary Police Ice Patrol
Top Team: Hurtin' Albertans from Edmonton
Top University/College: Bow Valley Justice from Calgary
Law Enforcement Torch Run for Special Olympics Alberta
Internationally the Law Enforcement Torch Run (LETR) for Special Olympics is the largest grassroots fundraiser and awareness vehicle for Special Olympics. More than 85,000 law enforcement officers from 10 Canadian provinces and 3 territories, the 50 United States, and 46 countries internationally form the largest grass roots fundraiser for Special Olympics. Last year in Alberta, over $670,000 was raised across the province, benefiting local programs. For more information on the Law Enforcement Torch Run for Special Olympics Alberta, please visit www.albertatorchrun.ca. Follow us on Facebook /AlbertaTorchRun or Twitter @Alberta_LETR.
Special Olympics Alberta
Special Olympics Alberta is dedicated to enriching the lives of Albertans with intellectual disabilities through the transformative power and joy of sport. Our vision is that sport will open hearts and minds towards people with intellectual disabilities and create inclusive communities.
Special Olympics Alberta's programs cater to all ages and a wide range of abilities to over 3,300 athletes in more than 140 communities. We provide world class sports programs that are run daily by over 1,300 volunteers. For more information on Special Olympics Alberta, visit, www.specialolympics.ca/alberta and follow us on Facebook, Twitter, Instagram, Flickr and YouTube. #ChoosetoInclude
- 30 -
For more information please contact:
Lorrie Sitler
Provincial Manager
Law Enforcement Torch Run for Special Olympics Alberta
P: 780-608-8360
E: LSitler@specialolympics.ab.ca
Katherine Dalusong
Manager of Marketing and Communications
Special Olympics Alberta
P: 780-638-4620
E: KDalusong@specialolympics.ab.ca