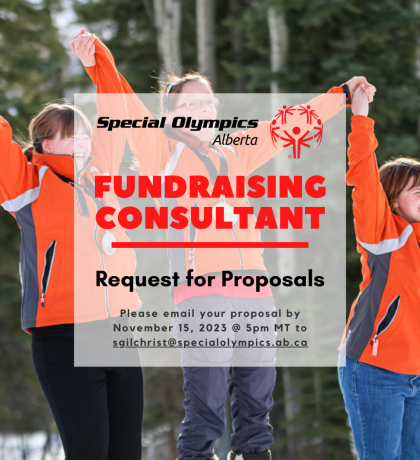 Special Olympics Alberta (SOA) is seeking a qualified and dedicated fundraising partner to help us in our Draft a Sport Campaign. We invite experienced fundraising companies or individuals to submit a proposal outlining their strategies and approach to raising funds for our organization on a fee-for-service basis. The successful candidate will be responsible for developing a compelling case for support and implementing a successful fundraising campaign to ensure the sustainability of Special Olympics Alberta.
Organization Background
Special Olympics Alberta is a non-profit organization, as part of Special Olympics Canada and a global movement, dedicated to enriching the lives of individuals with intellectual disabilities through the power of sport. Our mission is to provide year-round sports training and athletic competition in a variety of Olympic-type sports for children and adults with intellectual disabilities, giving them continuing opportunities to develop physical fitness, demonstrate courage, experience joy and participate in a sharing of gifts, skills and friendship with their families, other Special Olympics athletes and the community.
Project Overview
Special Olympics Alberta's newly designed Draft a Sport Campaign aims to raise essential funds to support our year-round sports programs. These funds are crucial to maintaining our organization's operations and ensuring the continued growth of our programs. (WHAT LENGTH OF TIME/WHAT AMOUNT TO BE RAISED?)
Scope of Work
Working closely with the SOA staff and volunteer team, the successful proponent will:
Develop a Compelling Case for Support:
Create a persuasive and emotionally engaging case for support that communicates the impact of Special Olympics Alberta.

Highlight the importance of our programs and the positive outcomes for athletes and the community.
Devise a Comprehensive Campaign Fundraising Strategy:
Develop a comprehensive fundraising strategy that outlines the tactics, channels, and timelines for the campaign.

Identify potential donors, sponsors, and partners and create a targeted approach for engagement.
Lead and Manage Campaign Implementation:
Execute the fundraising campaign, utilizing a mix of strategies such as events, online campaigns, corporate partnerships, and donor outreach.

Coordinate all logistics for fundraising events and activities, in consultation with the SOA team.
Support Meaningful Donor Relations:
Cultivate and steward relationships with donors, sponsors, and partners, under the direction of the SOA leadership team.

Provide regular updates and reports on the progress of the campaign to donors and stakeholders.
Provide Detailed Reports and Evaluation:
Monitor and assess the effectiveness of fundraising efforts, making adjustments as necessary.

Provide regular reports on fundraising results and campaign performance, specifically working with the SOA team and the designated Board committee.
Proposal Submission Guidelines
Interested parties are invited to submit their proposals, which should include the following:
Overview of your organization or individual qualifications and experience in fundraising, particularly in the non-profit sector.

Proposed approach and strategy for the Special Olympics Alberta Draft a Sport Campaign.

Examples of successful fundraising campaigns or case studies relevant to our mission.

Detailed budget and fee structure.

References from two (2) past clients or organizations you have worked with on other fundraising campaigns.
Proposal Submission Deadlines and Selection Process
Questions on the proposal are to be submitted to the contract contact noted below by November 3, 2023, 2023 at 5pm MT. Answers to all questions will be circulated to all interested vendors by November 7, 2023, at 5pm MT. Please email your proposal by November 15, 2023 at 5pm MT to sgilchrist@specialolympics.ab.ca
Submissions received after the deadline will not be accepted.
Proposals will be evaluated based on the qualifications, experience, proposed approach, and alignment with Special Olympics Alberta's mission. Shortlisted candidates may be invited for an interview or presentation.
We look forward to receiving your proposals and working together to ensure the continued success and stability of Special Olympics Alberta. If you have any questions or need further information, please do not hesitate to contact Sue Gilchrist, CEO, sgilchrist@specialolympics.ab.ca