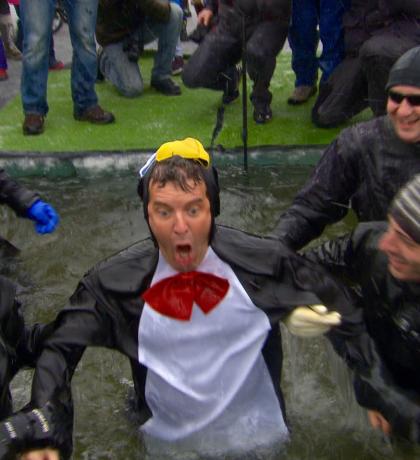 The countdown is on for the coolest event of the season!
Polar Plunge Alberta is open for registration and with a goal of 1,000 plungers across Alberta, we know this year will be a big splash.
This year, Red Deer is the newest city to host a Polar Plunge event which will take place at Bower-Kin Community Center on February 3, making the Polar Plunge available in five cities in Alberta!
To kick off the season, Lethbridge will make the debut plunge event on January 27 at Henderson Lake with Edmonton, Red Deer, Calgary and Medicine Hat to follow.
2018 POLAR PLUNGE EVENTS
MEDICINE HAT: MARCH 10, FAMILY LEISURE CENTER
completed
LETHBRIDGE: JANUARY 27, HENDERSON LAKE PARK - THANK YOU TO THE 100 PLUNGERS RAISING OVER $34,000
EDMONTON: JANUARY 28, LAKE SUMMERSIDE - THANK YOU TO THE 180 PLUNGERS RAISING OVER $70,000
RED DEER: FEBRUARY 3, BOWER-KIN COMMUNITY CENTER - THANK YOU TO 10 PLUNGERS RAISING $4,000
CALGARY: FEBRUARY 24, ARBOUR LAKE- THANK YOU TO OVER 170 PLUNGERS RAISING OVER $55,000
There are new awesome new incentives and prizes for top fundraisers in these categories:
Top plunger in Alberta
Top law enforcement member
Top athlete plunger
Top team in Alberta
Top corporate team
Top university team
Mr. Lube
has come on board to be the official incentive sponsor for the Polar Plunge across the province offering cool incentives like sunglasses, towels and an Under Armour Jacket when participates raise $750 and up.
The water is fine and the event is going to be cooler than last year!
Sign up today and raise $75 to plunge at the best event of the season.