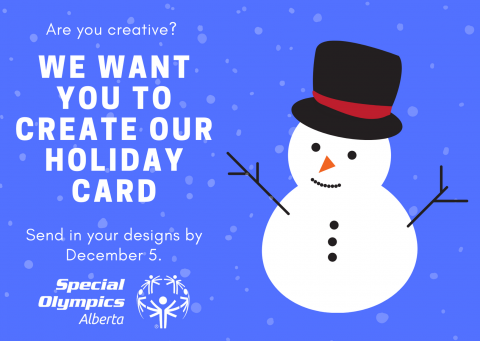 Calling all athletes, we want you to make the holidays brighter by creating our Special Olympics Holiday Card.
In our special tradition of holiday fun, we want athletes to submit artwork of what the holidays and Special Olympics means to you.
What you need:
Combine the love and spirit for Special Olympics with a fun holiday theme.
Show off your creativity with drawing, painting, photo, collage or video.
Send your designs by December 5, 2019, 4 p.m. MST.
Win a prize and feature story about your creation. 
Rules:
Entries must be from Special Olympics Alberta athletes.
Artwork and message combine the spirit of Special Olympics and the celebration of the holidays.
All entries are submitted by December 5, 2019, 4 p.m. MST. 
Send your creation to news@specialolympics.ab.ca
Or by mail/in person:
Attention: 2019 Holiday Card Contest
Special Olympics Alberta
3-12122 68 St. NW
Edmonton, AB T5B 1R1
Check out last year's winner Brenda Friesen and Rocco the Reindeer