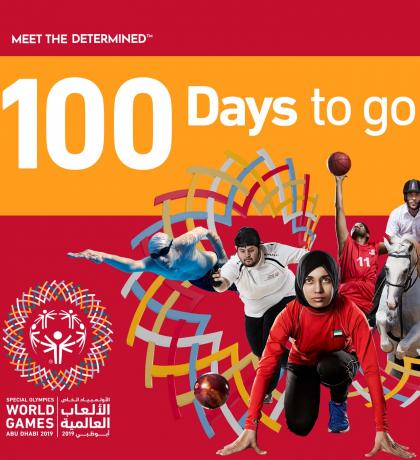 The countdown to the 2019 Special Olympics World Summer Games is on. December 4 marks the 100 Days to "Meet the Determined.
More than 7,500 athletes from a record-breaking 192 countries are set to take part in the breathtaking spectacle, which will begin in March next year. Ministers planning the event - the first time it has been staged in the Gulf – hope to redefine the boundaries of what is possible for those living with disabilities. Some 3,000 coaching staff will be on hand to assist the athletes as well as 20,000 volunteers to take charge of close to half a million expected spectators.

Special Olympics Team Canada will have over 100 athletes competing in nine of the 24 summer sports at the World Games: 10-pin bowling, athletics, basketball, bocce, golf, powerlifting, rhythmic gymnastics, soccer and swimming.

Cheer on our 15 Albertans representing Team Canada!
For more information about the 2019 Special Olympics World Summer Games in Abu Dhabi, go to www.abudhabi2019.org.

#AbuDhabi2019 #WorldGamesAD #SOTeamCanada19