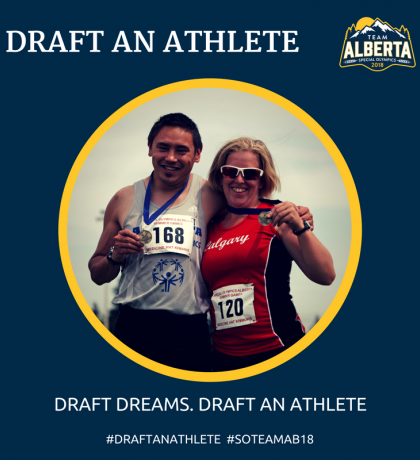 EDMONTON, AB, May 4, 2018- Special Olympics Alberta is connecting athletes and supporters with Draft an Athlete campaign. To celebrate the training and hard work of Team Alberta athletes, Special Olympics Alberta aims to have 86 athletes drafted through the fundraising and awareness campaign, Draft an Athlete.
"Our Draft an Athlete campaign partners our Team Alberta athletes with supporters who want to get up close and follow the journey of our athletes and also contribute to their success with a financial contribution," said Edie Dixon, Special Olympics Alberta's Director of Fund Development.
Draft an Athlete connects people, companies, groups and organizations to the true spirit of Special Olympics. It allows drafters to witness the dedication and training of athletes and secures funds for quality sport. A contribution of $1,000 provides funds for quality training tools, coach resources, travel, accommodations and uniforms.
"Draft an Athlete secures quality training and competition for our Team Alberta athletes. It also gets the community to celebrate their local athlete or athletes who are committed to show their personal best at the Bowling Championships and the National Summer Games. We need the support from the pillars of the community to show their pride for our Team Alberta members."
For more information on Draft an Athlete, contact Johnny Byrne jbyrne@specialolympics.ab.ca.
About Special Olympics Team Alberta
Team Alberta is represented by 148 athletes and 54 coaches and mission staff who will be competing at the 2018 Special Olympics Canada Bowling Championships in P.E.I and 2018 Special Olympics Canada Summer Games in Antigonish, Nova Scotia. They will be competing in 5 and 10-pin bowling at the 2018 Bowling Championships from May 14 to 20 while the rest of the team will compete in athletics, basketball, bocce, golf, powerlifting, rhythmic gymnastics, soccer, softball, and swimming at the 2018 National Games from July 31 to August 4.
Team Alberta represents 26 communities across the province, with athletes who are as young as 14 and as old as 61 years old. Team Alberta is built on the values of ability, courage, humility, integrity, empowerment, value and effort. Each member has committed to train to the best of their abilities and to show their personal best.
You can find inspiring stories on Team Alberta athletes at www.specialolympics.ca/2018-team-alberta
Special Olympics Alberta
Special Olympics Alberta is dedicated to enriching the lives of Albertans with intellectual disabilities through the transformative power and joy of sport. Our vision is that sport will open hearts and minds towards people with intellectual disabilities and create inclusive communities.
Special Olympics Alberta's programs cater to all ages and a wide range of abilities to over 3,300 athletes in more than 140 communities. We provide world class sports programs that are run daily by over 1,300 volunteers. For more information on Special Olympics Alberta, visit, www.specialolympics.ca/alberta and follow us on Facebook, Twitter, Instagram, Flickr and YouTube.
-30-
Media Contact
Katherine Dalusong
Marketing and Communications
Special Olympics Alberta
P: 780-638-4620
KDalusong@specialolympics.ab.ca