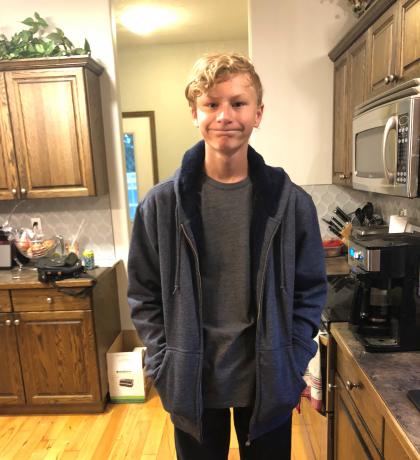 Blink and you will miss him skating by you.
Tyler Larson is a 16-year-old speed skater who has been competing with Special Olympics Alberta – Red Deer since joining in 2014.
After only a year Tyler made the 2015 SOA Winter Games in Grande Prairie where he earned 2 gold medals, one silver, and a bronze.
Four years later, Tyler is ready to make another appearance at Provincials when he takes to the ice at WinSport (Canada Olympic Park) for the 2019 Special Olympics Alberta Winter Games in Calgary.
Tyler has already established himself as a strong competitor through his speed on the ice.
He advocated that his first experience at Provincials was great – specifically mentioning the food – and that he was looking forward to competing at #Calgary2019.
"Keep calm and keeper going," said Tyler on what advice he could offer athletes attending their first Provincials.
One of the things Tyler says he is doing to prepare this time around is lots of walking, something he continued throughout the holidays.
Tyler stated that Special Olympics has taught him a lot of things and his favourite thing was to "be chill."
For the past 50 years, Special Olympics across the country has been enriching the lives of Canadians with intellectual disabilities through the transformative power of sport, but we can't do it alone – nor can the 800,000 Canadians with an intellectual disability.
In honour of our 50th year, we're asking you to help ensure Special Olympics can continue transforming lives for another 50 years: refer a friend or family member to a Special Olympics program, help raise awareness of our mission and shift the focus from disability to ability, or make a donation today.
For athletes looking to get involved Tyler believes that everyone should at least give it a shot.
"You got to try once, right," said Tyler.
Catch Tyler and the 700+ athletes who will compete at Provincials from Feb. 8 through Feb. 10 in Calgary.